A good night's sleep is vital to one's mental and physical health. It gives the body a chance to heal and repair and for your mind to recharge.
There is lots of advice on how to get a better night's sleep, from restricting caffeine intake to limiting blue lights before bed.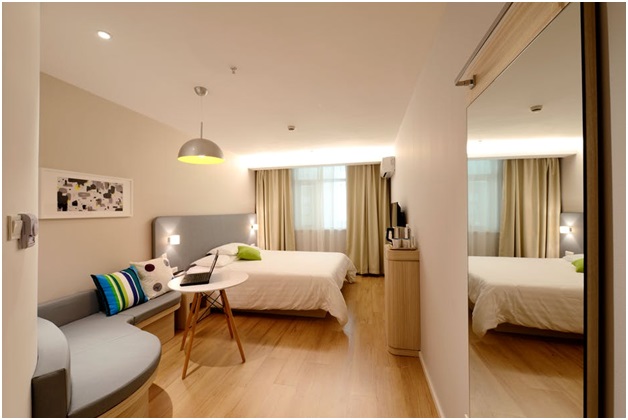 But did you know that the design of your bedroom can play an important role in your sleep quality? Read below for five tips that are essential when designing a bedroom for maximum sleep comfort.
Consider Colors Carefully
When thinking about how to design a bedroom, the color palette should be at the top of this list. Studies have shown that there are psychological effects of color, and some colors promote rest and relaxation better than others.
For the best night's rest, consider a calm and soothing color. Pastel blues and greens are great choices. Neutral palettes such as taupe or gray also work well.
Lighting for Day and Nighttime
Having adequate light that isn't too bright or too harsh can be tricky. Layering light sources makes it easier to control the amount of light in your bedroom at any time.
Consider adding a dimmer switch to any overhead lights and keep a table lamp nearby for cozy reading in bed. LED lights with a warm color temperature minimize disruptive blue light and help promote sleep.
Covering the Windows
Window treatments play an important role in bedroom design. They should provide privacy and block light at night, but still provide a way for light to pass through during the day to make the room feel light and spacious.
Roller blinds are a good option for maintaining privacy during the day while allowing filtered light. For when you are sleeping, consider blackout draperies to completely block the light and provide a darkened room for slumber.
Plan Your Furniture When Designing a Bedroom
Think about the floor plan of your bedroom when buying bedroom furniture. You want to pick furniture that is an appropriate size to allow for the best flow.
The bed is the most important piece of furniture in your bedroom and you should choose it carefully.
There are a lot of options to choose from, but consider a canopy bed for the added bonus of curtains to block light. For an extra bit of fun, try a round bed canopy.
Maximize Your Storage
Too much clutter can be a distraction and make a room feel less peaceful. Some easy ways to add storage to keep things organized and neat are to use under the bed storage containers and bookcases or built-in wall shelving.
A bench with storage or a large trunk at the foot of the bed is another clever way for decorating a bedroom while providing extra storage.
A Peaceful Retreat
With a little planning, designing a bedroom that is a restful oasis is not only possible but easy.
If you want to learn more about decorating, check out the other articles on our website. We cover home and garden topics and also health, fitness, fashion, and much more!