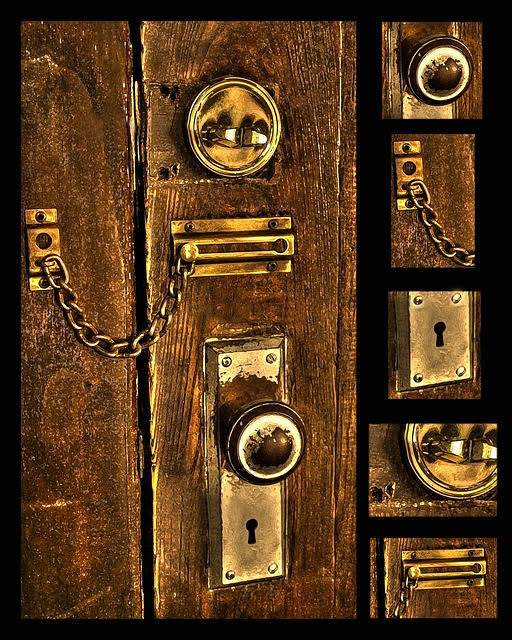 The front door is the critical entryway for your family members and guests, but also for all accidental visitors like criminals and burglars.
These days in the UK, it is not safe anywhere. So, a solid home improvement DIY project to increase the security level of your property is essential. And usually, all experts will tell you to start exactly with these tiny but key safety elements – the door locks.
Whether yours are totally old or broken, or you just need something more modern for your new home place, below you will find out the best options. See the safer door lock types for your house or flat.
Deadbolts
Traditionally, the deadbolt is determined as the main lock element when it comes to the right selection of a door lock. 
Usually, this piece is in a square-ended shape. It's a bar made of solid metal material. The function of the deadbolt is to slide safely – in and out – directly from another locking element, the doorframe.
This whole process actually provides the chance for the door to be locked. You can find numerous models of deadbolt locks, but the most common ones are the single-cylinder or the double-cylinder.
These days you can also find single/double and classical thumb turn locks. 
It's good to know that the double-cylinder deadbolts need you to have keys to unlock the door from the inside and from the inside, which means that such a door gets quite more difficult to be opened by someone else.
Knob Locks and Handle Locks
These specific locking systems are more typical for the States than for UK homes. However, we have seen many British homeowners opting for them, too. 
The handle locks are characterized by their amazing application to the interior doors. Yet, if you want some solid security level for your property, they might not be a good option for your front door.
Barrel Bolt and Chain Locks
Barrel bolts and chain locks are definitely quite amazing to improve security at home, but only when you are inside. The thing is that they don't fit your safety when your entire family is away.
To lock the door with such a model, a chain should be attached, while when you need to open the door, the chain is removed.
Experts recommend the barrel bolts and the chain locks mainly to increase the security level for a door with an installed deadbolt.
Mortise Locks
This lock gets its name through the pocket that's popular by the name mortise and cut into the door edges.
Such a locking system is more typical for older buildings. Usually, people don't opt for such a solution because it is unreliable and safe.
The thing about the mortise locks is that they require a whole set of levers to prevent the bolt from moving.
Padlocks
They are not recommended for any front doors. Some houses, though, are with such a front door locking.
Usually, they are old and not filled in with too valuable possessions. Most padlocks these days work with a key, but some designs enable the opening through a number combination.
Of course, inserting a concrete password is the better option, but it is not the best security measure to lock your front door safely.
Smart Locks
These are the most modern alternatives for you if you need some really reliable door locks.
Available even in your local locksmith company, any specialist will tell you that the smart lock is better.
The smart locking system uses digital mechanisms and software products to create an intelligent and monitored tactic to protect property.
Whether they come with a touchpad pin access or they require your voice to be controlled, such devices give you full control over your house security and entrance.
Please, note that the smart locks are usually accompanied by other security extra features like cameras, alarm systems, smoke detection, and you name it.
Electronic Locks
Similarly to smart locks, these are even more contemporary and reliable. 
They distinguish from the smart lock with the specific keypads that allow the client to enter his own home by entering a concrete code.
Such a locking system can be integrated into a knob, handle lock or deadbolt. People can order keys from them, too, to double the overall property protection.
Tips For Choosing a Lock
Too many door locks to make a quick choice? Don't worry! We have a step-by-step guide to help you with your selection.
Answer these questions below to know what to look for in the door lock store:
What's your budget

? Try to fit in your financial limits, but make sure not to make savings from important things such as your front door lock!

Where are you going to buy it

? We strongly recommend you turn to a professional

locksmith company

or a door lock producer with a good enough reputation on the market.

Can you install it?

You can still buy this ultramodern door lock even if you cannot. Just don't forget to mention to the consultant that you will benefit from the extra installation service.

What's your door?

Note that not all the door locks fit all the door types. It's better to tell the consultant your door model, material, and size to know your options.
Conclusion
Select the most suitable for your door lock and make sure you can make them work together. Don't underestimate the professional assistance in your selection and installation process or during an emergency. 
Be reasonable; if you cannot do this small repair, let the specialists do their job. This is your home security guarantee, after all.
Don't let your pride or wrong estimation of your skills reduce the safety level of your property.