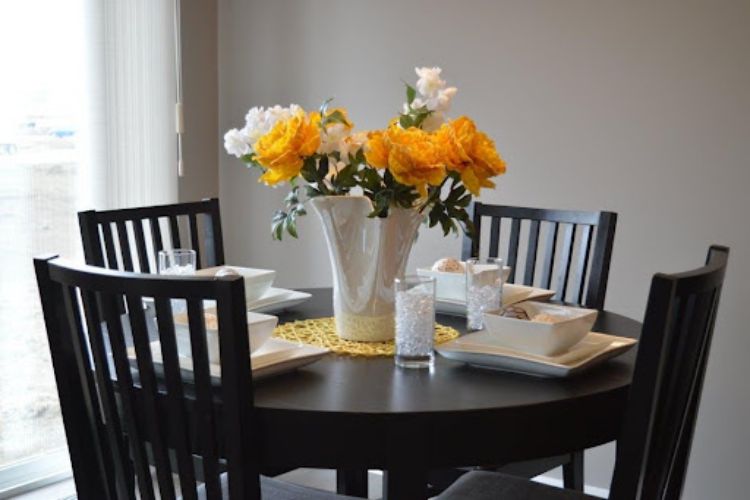 Are you searching for the best small dining room ideas? If so, you'll want to check out this brief list of space-creating tips and tricks. After all, enjoying a more spacious dining area could be as simple as adding a few lights!
Whether you're furnishing a small home or a studio apartment, these design ideas are bound to make your living areas more inviting and attractive.
Read on to find out how you can transform your tiny dining area into a relaxing, roomy space!
Light It Up
If your dining area is lit by a single bulb, it's time to change things up. A single light source is a surefire way to make a space feel cramped and tiny.
Spreading out the light by employing multiple lamps can make your space feel a little roomier. Be sure to consider wall lamps and hanging pendant lamps when customizing your small dining room lighting.
Floor lamps can consume precious floor space, and table lamps require additional furniture, so it's best to avoid these light sources.
Install Mirrors
Overloading your dining area with tons of lights isn't the best way to make your space a little roomier. While adding a few lights to the walls or hanging a pendant lamp can open the room, too much of anything is always bad.
That said, you can help your smaller lights have a greater impact by installing some mirrors in your dining area. A mirror will reflect any light that falls onto its surface, acting as a kind of secondary light source.
Besides, mirrors often feature decorative frames and designs. So adding one or two mirrors to your dining area may add far more intrigue than a painting or statement plaque. 
Use a Folding Table
Are you a single person living alone? If so, you might want to invest in a simple folding table! A small dining room table that folds up can significantly reduce the amount of space you're using.
You can choose from portable folding tables, or you can install a wall-secured folding table. Either option is a great way to save space, though one is far less permanent.
Choose a Reflective Table
Proper lighting can make a small room feel spacious. And adding mirrors to such a space can amplify the light, adding depth to the room. But did you know that your dining table could also help create some light?
For example, you could choose a transparent lucite dining table. These tables come in several compact sizes, making them an excellent fit for any dining room.
They also capture and reflect light, making them an excellent choice for small spaces. Adding a few metallic or glass accents to one of these tables is bound to accentuate this aesthetic and make your area feel more open.
Utilize Your Kitchen Bar
Many kitchen spaces (especially aisle-like galley kitchens) have a small, raised bar area to accommodate bar chairs. If you're working with an apartment small dining room, you can use this bar to your advantage.
Instead of investing in a table and chair set, you can maximize your space by simply installing some barstools or bar chairs! The kitchen bar functions as a simple dining area.
Choosing this option can make your whole home feel more spacious, especially if you're living in a studio or one-bedroom apartment.
Enjoy These Small Dining Room Ideas
Hopefully, these small dining room ideas have inspired you to make some space-saving changes. Remember, making your dining area feel more welcoming could be as simple as installing a new light!
Of course, adding some mirrors, investing in a folding table, and utilizing pre-existing areas can also help. And if you're looking for a unique take on a space-saving dining setup, you can always choose a floor dining table.
Are you interested in making your home more inviting and comfortable? If so, be sure to read our related home design articles now!