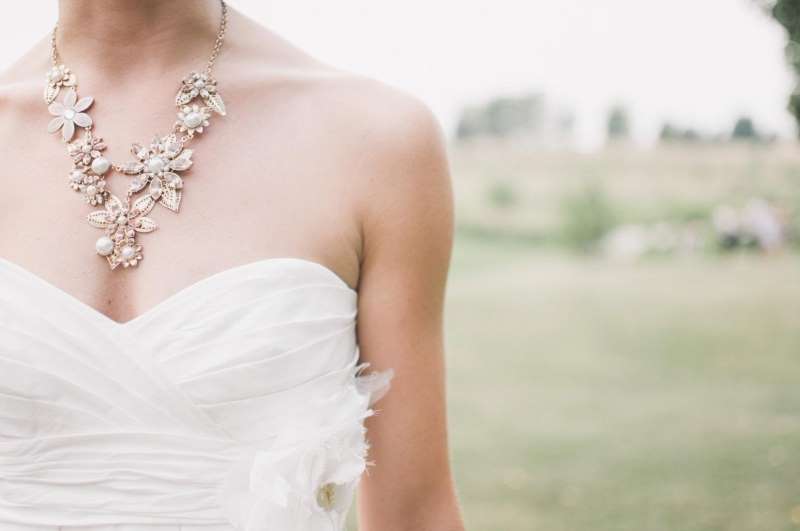 If you say that you haven't been planning your wedding day look since you were a child, then you're a liar! Your tastes may have changed over the years, but it's no secret you've been dreaming of this one, special outfit all your life.
If you've already decided on the dress, the hair, the shoes, etc., it may be time to start looking for simple wedding jewelry. Always in style, simple elegant wedding jewelry adds a little bit of shine to your look.
Check out these simple wedding jewelry ideas for some inspiration.
1. Simple Wedding Jewelry
Keep it simple, sweetheart. An overdone bride is unpleasant for everyone and you'll regret over-accessorizing when you look back on photos later. Instead, opt for simple jewelry for your wedding to create a classic look you'll love the rest of your life.
2. Grandma's Pearls
The number one jewelry for simple wedding dress styles is pearls. These have been a bridal classic for decades and you will not go wrong wearing them now.
To add a little sparkle, choose pearl and crystal or rhinestone jewelry sets.
3. Solitaire Pendant
Simple elegant wedding jewelry includes solitaire pendants and deep necklines. If your neckline is already making a statement, fill the space with the simple sparkle of a diamond or crystal on a plain chain.
Match the shape of your pendant to the structure of your dress. Choose a square pendant for a highly structured gown and a round one for a softer silhouette.
4. Boho Wood
You can have a unique look on your wedding day without going over the top. Polished wood jewelry is an understated, beautiful look to pair with gauzy boho gowns in outdoor ceremonies.
Find a long string of polished wooden beads for a necklace or carved wood earrings to bring this rustic, natural feature into your wedding day look.
5. Custom Made Jewelry
Have a vision that you just can't find in stores? Trying to create a vintage look? Custom made jewelry is the answer.
This is an exceptionally good idea if you are wearing a unique dress. Perhaps you need a piece of jewelry that will hang down the open back of your gown. Or you find most necklaces you try on are overlapping your neckline and need a custom fit.
Whatever the reason, custom made jewelry for your wedding will give you a piece to treasure for the rest of your life.
6. Hair Jewelry
Kill two birds with one stone with hair jewelry. Choosing a beaded net or twining vine to braid into your hair can replace both the needs for necklaces and veils.
Bridal hair jewelry is on the rise. There are many styles to fit each brides' unique vision, including chains the drape around the forehead like a crown, crystal floral pieces that rest in a braid or chignon, and screw in pearls, crystals, and flowers that whimsically dot the hair.
Simple Jewelry for Your Wedding Is Out There
So much of getting married is looking for the "right" thing: the dress, the venue, the husband. Your simple wedding jewelry is out there, you just need to make a plan and look for it. Keep looking!