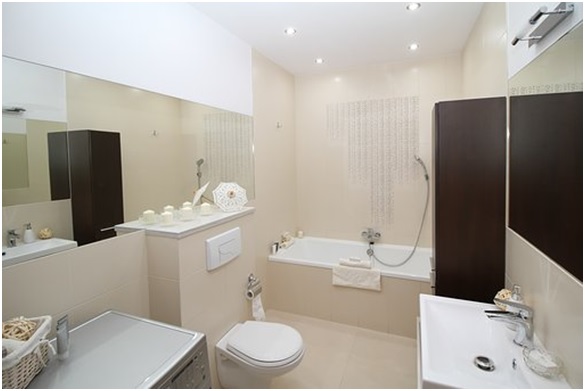 Your bathroom is one of the most important rooms in your house; after all, you spend a considerable amount of time there every day. In order to renovate your bathroom and give it a more expensive look, you do not need a gut renovation.
There are a number of ways you can make your space look luxurious. Have a look:
Add a Little Seating Area
You may not realize the importance of a place to perch in the bathroom, but it is something that can turn your space into a luxurious one in a matter of a few seconds only.  You can keep a garden stool, a storage ottoman, or simply a curvy arm rocking chair at one corner of the room to add that missing warmth to space.
This accent will not just make your space look grand but a lot more expensive than it actually is. So from now on, you don't have to use a toilet seat for a pedicure when you can use your ottoman.
Know more about replacement toilet seats.
Wallpaper
Wallpaper is the cheapest way to decorate any space. Wall paint is relatively expensive as compared to wallpapers. There is a huge variety of wallpapers available in the markets these days so you can easily choose the one that goes with your bathroom theme.
You can cover your walls in statement wallpaper with a beautiful graphic design. If you are residing at a rental apartment or home, you can look for removable wallpapers.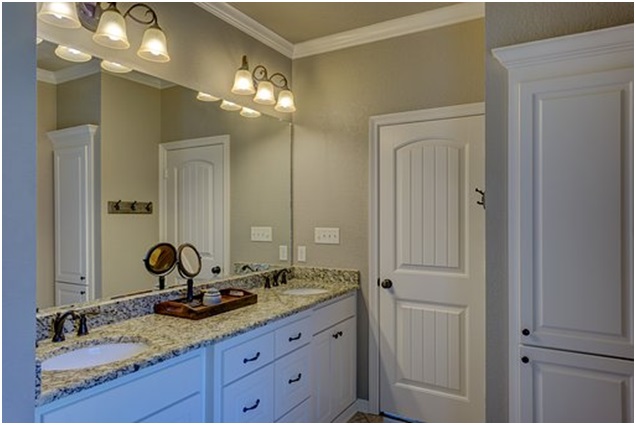 Take Care of the Basics
A sink, toilet, bathtub, and even showers are considered the necessary items in the bathroom; therefore, these things are often ignored. When you talk about a luxe bathroom, you need to pay attention to every single detail whether it is about the sink, the toilet or the shower.
To give your bathroom an opulent look, install a marble vanity with a large countertop. Marble is easy to clean, so there won't be an issue regarding the maintenance. You can also install a marble bathtub. A bathtub will instantly add lavishness to your space. According to many people, a bathtub is a luxury so you can use it as an advantage.
Apart from all this, consider purchasing an up-flush macerating toilet for your bathroom. It is definitely the most advanced of its kind. It not just looks stylish but is quite effective in its work. It is best for the bathrooms in the basement that are mostly below the sewer line. To know more about it, check the reviews here: https://homeaddons.com/best-upflush-macerating-toilet-reviews.
Replace your Bath Mat
An old, ripped or faded bath mat can break the entire look of your bathroom; thus, you need to change it immediately. If your floor mat is dirty or ripped, it can make your bathroom appear unkempt.
If you want your bathroom to appear as fancy as anything, you can switch the terry bath mats with Persian or Afghani rugs. It is a surefire way to upgrade your décor game in less than seconds. The Afghani rugs are quite soft and comfy; hence, they are a great replacement of a bath mat. Besides, you can visit Zerorez Carpet Cleaning Fort Myers.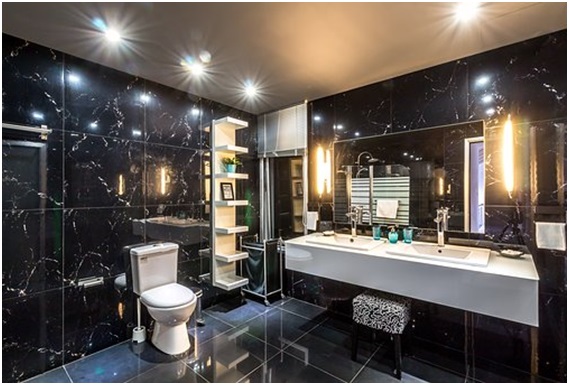 The Perfect Lighting
You should never settle for less when it comes to lighting in your bathroom. It is something that is mostly overlooked, but as a matter of fact, good lighting can contribute to your bathroom décor to a great extent. Perhaps because the basic lighting is mostly pre-installed in the bathroom, one never really pays attention to upgrade it.
You can find a number of lighting options in the market these days, most of them won't break the bank. If you have a free budget, you can always go for a chandelier. There is nothing more sumptuous than a chandelier. Or if you are on a budget, you can try the ceiling lights, they are as fancy as anything, and the best thing about them is they're not too expensive either.
You can even install mini LED lights on the vanity mirror of your bathroom. It is a cost-effective yet efficient way to decorate the space.
Use Trays
The products that you use on a daily basis, (for example, your shampoo, and shower gel, lotion, or eye cream) need to be on the countertop at all times. Gather everything and confine it into a stylish tray. Purchase two to three marble trays in different sizes, the small one for the hair ties and barrettes, the medium one for soaps, and the large one for shampoo, shower gels, and stuff. Make sure your countertop is photogenic.
You can even keep a separate tray for perfumes as well. Just make sure to keep them dry and moisture-free so choose a safe corner for it that remains water-free at all times.
Upgrade your space and enjoy the decor time. Cheers everyone!