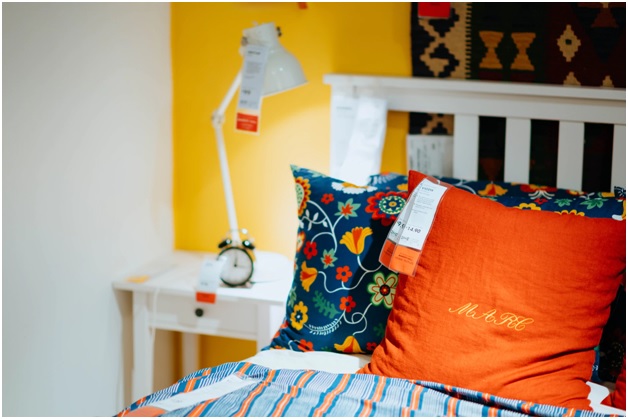 Photo by chuttersnap on Unsplash
Pillowcases are the perfect way to switch up your bedroom's overall look and feel. They might not be the first thing that your mind jumps to when you think about reinventing your bedroom or your sleep schedule, but they are in fact a staple of both. The humble pillowcase has a lot more impact than you might think, both in style and in sleep! If you're looking to add a little freshness to your bedtime routine, consult this complete guide to finding the right pillowcases for you:
Material
Your choice of material is the most important factor in finding the perfect pillowcases for your bed. Material is absolutely everything when it comes to sleep. Low cost, satin feeling sheets can be very tempting. However, remember that these are made out of synthetic fibers that won't breathe well at all. Always pay attention to the textile composition, its vital for comfort, longevity and a good night's sleep.
The very best materials to sleep in are pure cotton, 100% silk or a linen-cotton blend. These have maximum breathability and will last you for many nights to come! Natural materials feel soft and comfortable for your skin, whilst they also care for it.
For a seriously luxurious snooze, opt for a 100% silk pillowcase. These are a very high-end choice for homewares however, they will last you ages and come with some astonishing benefits. A silk pillow will prevent any wrinkling from sleeping with your face squashed against the covers night after night. Another amazing plus is that your silk pillowcase can protect your hair! Tossing and turning in harsh fibers can cause extra breakage and thus encourages frizz; a silk cover will put an end for that as good. You'll wake up with hair that's as silky as your pillow!
Tips: A comfortable bed is also important thing along with a pillow for a sound sleep. For comfortable bed, you can check out Dreamy – Bedding.
Size
Once you've settled on your material, you can begin to consider the size of pillow that you'll need. This will depend on whether you're planning on layering up or going minimal. Your standard size is going to be 20 by 26, you can always have bigger pillows resting vertically behind your primary function size for maximum comfort and a plush look. Decorative pillows are a fantastic, stylish addition and give you the opportunity to be a little playful with your room's aesthetic. Try to stick to odd numbers to avoid the bed looking too deliberate or matchy-matchy.
Style and Colour
You've decided on material and size, it's time for the fun part! Choosing the style and color of your pillowcases can seem menial but remember the impact that a pop of color can have on a room! If you have white bedsheets, why not introduce a pattern or a bold tone? A bright red against white will liven up the entire space, whilst a striped pillowcase can help to open up a smaller bedroom a little bit.
Maybe you're more into earth tones? Choose pillowcases that are in the same palette as your sheets to blend in seamlessly, a muted dusty pink paired with dark mustard will go perfectly in a neutral lover's room.
If you're lost on where to go with your color or style, there's no way to wrong with a crisp fresh white. This is a total classic and will open up opportunities for you to be as playful as you like with the rest of your bedroom, whilst also matching perfectly with a minimalist style home.
Hopefully, by now, you're itching to get your hands on new pillowcases that will make your next night's sleep as cosy, stylish and healthy as possible!