More and more people are swapping crowded, busy public gyms for the privacy and comfort of their living rooms. And while making the change to working out at home comes with plenty of benefits (saving money, cleaner bathrooms, etc.), it also comes with one pretty glaring downside; no more special equipment.
Unless you're a fitness professional, there's a good chance you don't have all of the high-end workout gear you usually get access to at a gym. That said, you don't need any fancy equipment or even a lot of extra space to get in shape.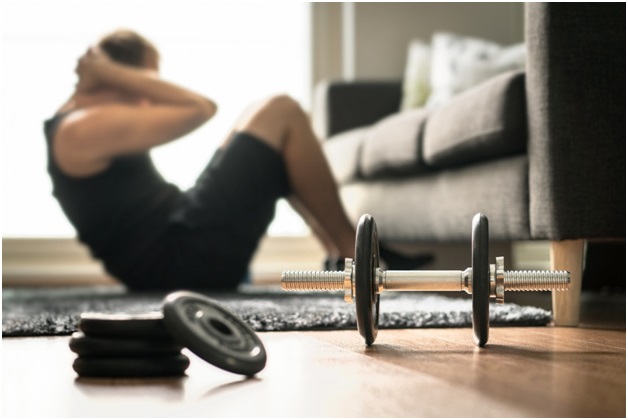 Are you ready to put together your ultimate home gym but aren't sure where to start? We've got you covered. Here's everything you need to build a home gym, no matter how much space you have.
A Full-Length Mirror
Having poor form doesn't just make your workout less effective — it can cause lasting damage if you aren't careful. The best way to check yourself to make sure you're working out the right way is by using a mirror.
You don't need to mount a fancy floor to ceiling mirror on your wall. But, you should include a small mirror in your home gym so you can check your form and posture throughout your workout.
A Mat
Bodyweight and floor exercises are essential parts of the home gym style workout. And, unless you like getting bruises from working out on a hard floor or having a carpet that smells like sweat, you're going to need to invest in a workout mat.
Resistance Bands
Not only are resistance bands a powerful fitness tool, but they're also inexpensive and don't take up a lot of space — making them an essential part of any home gym.
A Kettlebell
To continue along the vein of strength training, another home gym must-have is the kettlebell. From basic kettlebell swings to turning your lunges into a pro-level workout, kettlebells are a highly versatile fitness tool and an essential part of any strength training routine.
Dumbbells
Finally, when it comes to home strength training, you need to invest in a few good sets of dumbbells. Any good strength training routine covers several different muscle groups, and because some muscles are stronger than others, you're going to need a variety of weights.
Generally speaking, your home gym should include a set of light, medium, and heavy dumbbells. Alternatively, you could also invest in an adjustable dumbbell set, so you can adjust your weights to suit your needs as you go.
A Jump Rope
Finally, no gym is complete without a piece of cardio equipment. Depending on where you live, there's a chance you don't have room for a bulky treadmill or exercise bike. That said, as long as your home has space for you to stand up and stretch, you have space for a jump rope.
Are you looking for more advice on how to put together your ultimate home gym? Check out these tips!
How to Build a Home Gym
Now that you know a bit more about how to build a home gym, it's time to get working out! Are you looking for more fitness advice, tips, and tricks? We've got you covered! Check out the rest of our blog for more helpful articles today!