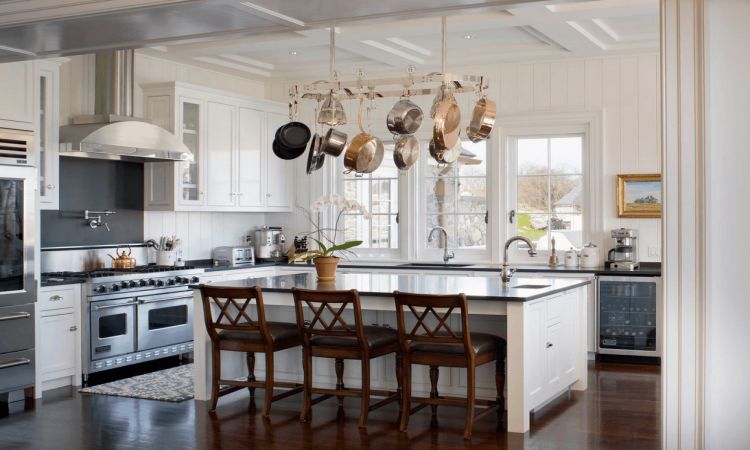 There are many different types of pots and pans that you can have in your kitchen. But there are also some unusual ones, which many people do not know about. These five pieces of cookware will be helpful to any home chef who is looking for a new challenge or just wants to experiment with something different! Let's look at five great pieces of unusual cookware you should have in your kitchen.
5 unusual pans to have in your kitchen
Whether you want to cook healthier meals or love trying out new recipes, these unusual pieces of cookware are great for making all kinds of food.
GreenPan
This is a brand that has a proprietary developed non-stick coating called Thermolon. This is a very different kind of non-stick coating since it does not contain harmful chemicals like PFOA or PFOS. Furthermore, GreenPan's don't create harmful substances when overheated or damaged. The GreenPan also has natural ingredients blended into the coatings to make them stick resistant and scratch free!
As you might imagine with the name, GreenPan also has an ethical position on the environment too. Producing Thermolon pans produces much less CO2 than producing traditional non-stick pans and the company uses recycled and recyclable materials. You can read some Green Pan reviews here.
Pressure cooker
This is a type of pot that produces and uses pressure in order to cook food faster than normal. This is because the pan is sealed meaning as steam is produced the pressure increases and this cooks the food much faster. Furthermore, as no evaporation can take place, the food retains more of its flavor.
The pressure cooker is great for cooking meats faster and at lower temperatures, making it very tender. This means that you can get a delicious stew in less than an hour!
Granite Stone Pan
Granite Stone Pans have excellent non-stick properties without any of the potentially harmful chemicals that go into traditional non-stick coatings such as Teflon. They also have a much longer lifespan than traditional pans. This is because the pan doesn't scratch and you can use metal utensils on it, making it last even longer!
Granite Stone Pans use food-grade granite over a metal pan core, which makes it ultra non-stick, very sturdy and durable. This is a great way to cook with less fat, as the food doesn't stick! You can even put some Granite Stone Pans in the oven, depending on what their handles are made of. You can read some Granite Stone Pan Reviews here
French Oven
This is an important piece of unusual cookware that every kitchen should have. You've no doubt heard of a Cast Iron Dutch Oven, well the French Oven is very similar, the main difference is the layer of porcelain ceramic glaze. The glazing is very important, since it makes the pot more non-stick and less likely to scratch. Porcelain-enamelled pots are also easy to clean even if food gets burnt or baked on!
French Ovens can be used for all kinds of cooking including frying, roasting, boiling, and steaming. Above all though, you want to cook a beautiful casserole in your French Oven as you can easily sauté and brown all your ingredients on the stove before pooping the lid on and putting it in the oven to finish it off. The French Oven allows you to cook many dishes that would otherwise require multiple pieces of cookware at once and you can even use this pan for baking breads.
Blue Diamond Pan
The Blue Diamond Pans are made of ceramic and feature a non-stick cooking surface without the need for any potentially dangerous chemicals. This has made these pans very popular, causing the range to expand quickly. The diamonds used to embellish Blue Diamond pans are what make them so unique. The concept of a cookware with diamonds may seem strange, but it is in fact quite useful. The quantity of diamond required to improve a pan is very little, yet it can have a significant impact.
As well as being non-stick, diamond ceramics conduct heat really well, which ensures a nice even heat spread across the base of the pan. You can read some Blue Diamond Pan Reviews here.
Conclusion
The five cookware pieces that are mentioned in this article are sure to surprise you but these pots and pans will help any home chef cook more efficiently with less calories, fat, or hassle. These pans aren't essential, for people who love cooking, to have these items on hand will make kitchen life easier!