How many times have you thought about changing your hair colour and style but were too afraid to go to the hairdresser? Be it due to bad experiences in the past, or because you don't want to face a permanent change quickly, changing hairstyles doesn't come easy for everyone. So, if you're looking to boost your confidence by finding a trademark hairstyle, we know the best solution – hair extensions. Stay tuned to find out how hair extensions can boost your confidence and make you look more fabulous than you already are.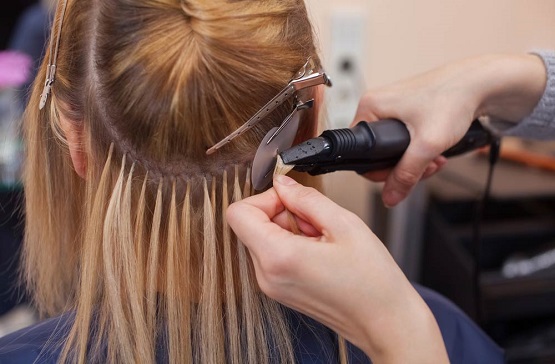 Add volume and length
This year short hairstyles could be trendy, and before you know it, long hair comes back in style. Knowing that you're missing out on being trendy because you just got a fresh haircut doesn't have to be a tragedy. With quality hair extensions, you can add length to your hair in a matter of minutes. Don't miss out on trends ever again, and invest in hair extensions to boost your length and volume at the same time. If the Kardashians can do it, so can you. Choose the length you want and modify It according to your liking.
Easy styling
Another reason to invest in hair extensions is the easy styling that it offers. Whether you want long straight hair or medium curly style, hair extensions are perfect for either of the options. You can achieve any look you want thanks to their versatility. Do you often wake up with a messy bedhead? It will never cause you headaches again if you grab your hair extensions and clip them onto your hair. The messy hairstyle is seamlessly concealed and all you can flaunt is your gorgeously shiny hair that nobody everyone will admire.
Minimum damage to your natural hair
Forget about split ends and dry hair due to overuse of hair straighteners and curling irons. When you invest in top-rated hair extensions, you're investing in the best hair accessory. Use your hair stylers to curl or straighten the hair extension and protect your natural hair underneath. Furthermore, clip-in hair extensions will be safe because they don't use glue to become attached to your hair, which means your hair will thrive when you decide to use clip-in hair extensions.
Save precious time
Does it take forever to achieve a perfectly slick ponytail? Have you wasted countless hours watching numerous YouTube tutorials without succeeding to tie a perfect ponytail? Those days are over! Whether you're going to work or running late for a date, not respecting other people's time is disrespectful and won't leave much of an impression. Look your best and show you have manners by being punctual, with the help of hair extensions. Forget about hours in front of the mirror trying to make your ponytail flawless. Use hair extensions to attach it without any hassle. Your scalp won't hurt because you won't be tying your hair so high and tight, and you'll still look gorgeous because of the hair extension.
Find a flattering hair colour safely
When women want to experience some change, most often, they'll try out a new hair colour or hairstyle. Instead of trying your luck and ending up with burnt hair, shopping for hair extensions is a much better choice. Clip them in and instantly see whether the shade you were aiming for is flattering to your complexion. You may think platinum blond is better than strawberry blonde, but nothing is certain until your hair is that colour. To avoid the risk of going through a mental breakdown, due to a failed hairstyle experiment, buy hair extensions in the colour that you want to try out, and test the theory first. If it turns out that the colour is perfect for you, use the extensions in the future to add length and volume when needed.
Feel better in your own skin
For many people, hair is a safety blanket that they hold onto and seek comfort in. So, when you feel like you could improve your hairstyle, use hair extensions to make it curlier, thicker or longer. You'll feel like a brand-new person with luscious locks that you can show off at work, during lunch with friends or on a date. The happier you are, the more radiant you'll be, which will lead to increased productivity. On top of that, you'll appear more approachable if you look happy more often.
Final thoughts
Hair plays a crucial part in a person's self-esteem, so pay good attention to what you want to do with your hair. Don't make any decisions too soon, and always test your theory with hair extensions first. Use them to add length, volume and temporarily change the colour of your hair. Prevent hair damage, while looking and feeling your best with clip-in hair extension.