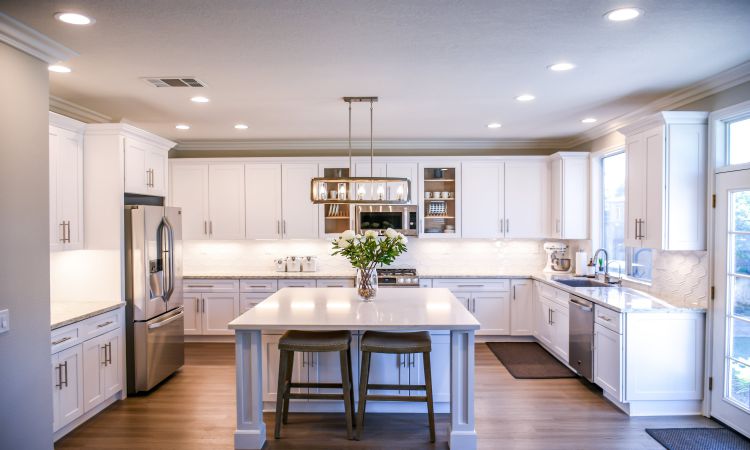 Are you replacing the flooring in your kitchen? Do you worry that you won't make the best choice and end up wasting money?
There was a 40 percent jump in demand for home renovation services in the US in the past year. Homeowners are improving their homes because they're spending more time there.
Finding the right flooring for your kitchen takes a bit of research. Here's a guide to help you choose kitchen flooring that will look beautiful and last for years.
Qualities to Consider
When you're evaluating kitchen flooring options, there are a few basics to consider. Take the time to think about your goals for your kitchen.
Your kitchen flooring adds to the look and feel of your space, so you'll want it to be versatile. Whether your style is modern or traditional, you'll want flooring that works for your kitchen.
You want to choose a type of flooring that stands up to heavy use. Durability is a quality to consider when looking at different kitchen flooring materials.
Your budget will be the main factor in your choice of flooring for your kitchen. Flooring can be affordable and meet your needs. Be sure to include the cost of installing kitchen flooring in your calculations.
Look for materials that are easy to clean and stain-resistant. Kitchen flooring maintenance should not take a lot of your time.
Hard Wearing Ceramic
It's easy to get the look you want with ceramic tiles, and they are easy to clean. Porcelain tiles are quite durable, but the hard surface is a problem when you drop anything. Tiles are cold to the touch, and their weight might be a problem.
Versatile Vinyl Tiles
Luxury vinyl tiles (LVT) are functional and durable. They come in many styles and designs so you can find the look and feel you want. There are many options for price, but luxury vinyl tiles are usually cheaper than porcelain or wood.
Moisture is the leading cause of damage to kitchen flooring over time, so fully waterproof LVT flooring is one option to consider. It's worth the investment because it's long-lasting, durable, and adds value to your home.
Save Money With Laminate Flooring
This option is the least expensive and is easy to clean and maintain. You can install it yourself as well. It's less durable than hardwood, and the look varies with the price. It's more water-resistant than hardwood but will chip and damage over the years.
Hardwood Is Beautiful
Nothing beats the warmth of wood flooring, but it's the most expensive choice. Wood is prone to moisture damage, and changes in humidity can cause them to shrink or warp.
Wood comes in various finishes, so you can choose the color that provides the look you want. You can refinish hardwood flooring, which makes it a long-lasting choice.
Choose Kitchen Flooring With Confidence
Now that you know how to choose kitchen flooring, you can evaluate your options and make the right decision for your home.
If you enjoyed learning about different flooring alternatives, we have more design and decor advice on our blog. Check it out today!