It's a stormy night outside, but you and your family are snuggled up, watching a movie. Suddenly, the TV and lights go out, and you're left in the dark. Unfortunately, extreme weather events are becoming more common. And our aging electric grid contributes to the problem.
In fact, here in the US, power outages are so common we rank number one among developed countries. That's why there are entire websites dedicated to tracking power outages.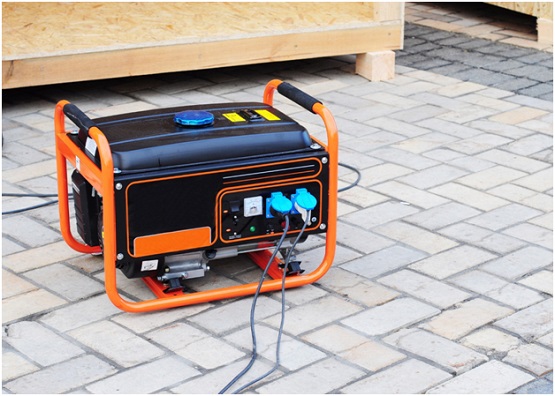 Let's take a look at how to connect a generator to your house so you won't be left in the dark.
The Basics: What is a Generator
While there are many generator options, including permanent installation of gas, diesel, and propane-powered versions, most homeowners opt for a portable gas version. These provide the important generator benefits we need. And that's enough electric power to keep basic appliances and a few lights on when the power goes out.
How to Connect a Generator to Your House
After buying a generator, you need to decide how you are going to take advantage of its electric output. You have two choices.
The simplest way is simply to run extension cords from the things you want to keep running to the generator. The second option is by connecting a generator to your house electric grid directly. Let's explore each of these in more detail.
Using Extension Cords
Gasoline generators can't be safely run indoors because of the fumes. That means your generator needs to be outdoors or in a well-ventilated garage.
And that means you are going to have multiple extension cords running from the house to the generator. At best, that's awkward and inconvenient. At worst, it's a safety hazard. On top of that, you won't be able to power wall or ceiling-mounted lights.
Direct Wiring the Generator to the House Electric Panel
Installing and using what's called a transfer switch is a much better option. Not only will you be able to power anything in your house, but you'll also cut out extension cords entirely. It's a much safer and simpler way to go in the long run.
A transfer switch installed adjacent to your breaker box lets you switch your home's electrical system from the utility's grid to the generator.
Installing a Transfer Switch
Using a transfer switch to connect a generator to your house does mean working with the wiring in your breaker panel. If you've got decent electrical skills, it's fairly simple. If not, by all means, hire an electrician.
Few portable generators will power a whole house, so decide which circuits you want to power during an outage. Make sure you have the proper cord to run between the generator and the switch. And don't forget to have a generator repair service on call.
The Power's On
Knowing how to connect a generator to your house keeps the lights on when the power goes out! For more informative and entertaining articles, please look around the rest of our website!