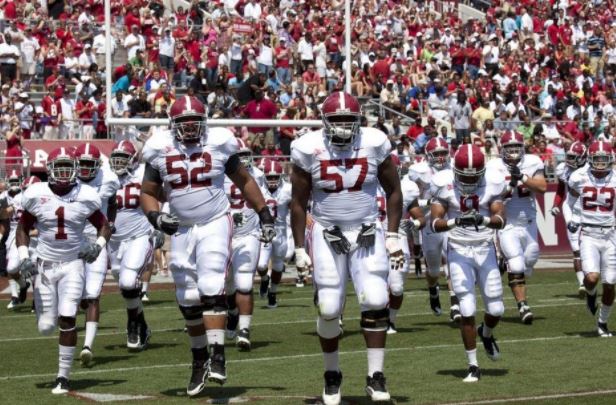 Are you looking forward to watching college football games this season? Many of us depend on cable connections to watch our favorite teams combat on the field.
But have you wondered how to watch college football without cable? After all, many Americans are 'cutting the cord' and forgoing their cable connections altogether. 
Luckily, there are many great options for you to watch upcoming college football games. This includes watching college football live without cable!
One major innovation is that you don't need access to local channels to watch college football.
Only a few years ago, this was your only option. Now you've just got to find your favorite channels or streaming options.
The upcoming season looks promising and we wouldn't want you to miss out. 
Here are your options for watching college football this year:
Antenna
While you don't need access to local channels, you might still consider this to be a viable option for watching college football. The best way is to buy an antenna for your television.
The antenna was once seen as the "poor man's option," however today you can find an antenna with a reliable connection to your local channels.
You can also ensure high-definition picture quality through an antenna.
It's also a great option if you have an unreliable internet connection.
In the event that your internet fails, you can use your antenna as a backup option for watching the games.
Make sure you choose the best indoor aerial antenna if you use a Digital TV.
Hulu Live TV
With Hulu Live TV, you can watch live college football games. You can also watch replays and highlights through Hulu's platform. Your favorite games can get saved for you to rewatch at any time.
With Hulu Live TV, you'll have access to ESPN and Fox Sports. These are two of the best options for watching live games and major tournaments.
Depending on your area, you can also use Hulu Live TV to watch local channels when you need to. 
You'll also get DVR storage which will let you record up to 50 hours of your favorite games.
You can set the DVR to schedule and record a game in advance so you can watch it at your leisure.
Hulu Live TV $45 per month. If you want to watch games on multiple TVs, it'll cost an extra $15 per month.
College Sports Live
If you're on a budget, then you want to consider the College Sports Live streaming app. 
This app has connections with almost 100 colleges and streams football matches from those colleges.
Most of these colleges belong to smaller conferences. However, you will find a few prominent teams as well such as Penn State and Notre Dame.
You should browse through their catalog to see which teams they support. If your favorite teams are on the list, then this is the best option for you.
It only costs $10/month and also includes audio-streaming as well as video-streaming.
ESPN+
This is one of the cheapest options available ($5 per month) but provides even greater value for the cost.
It doesn't give you access to ESPN's full network; however, you'll have access to many college football games from lesser-known teams. One of the best features is access to original ESPN content.
For example, you can watch old documentary films on famous college football matches.
Did you hear about the famous Harvard Beats Yale in 1968 match? You can stream it here!
Sling TV
This is a great option for streaming TV and selecting whichever channels you prefer for watching college football games. 
With the Sling Orange Plan ($25 per month), you'll have access to all ESPN channels.
This is the best way to watch college football if you live alone. The one drawback of Sling Orange is that it only works on one TV at a time.
For an extra, $5 per month you can get access to additional sports channels. With this, you can expect news coverage, replays, and other related content. 
The Sling Blue Plan costs the same, but you trade ESPN for Fox Sports 1 and Fox Sports 2. With this plan, you can watch the games on up to three TVs at a time.
You can choose a combination of the two for $40 per month. You'll have access to both ESPN and Fox Sports channels and can stream on 3 TVs.
With this combination, you can also pay an extra $5 per month to install a DVR option.
YouTube and YouTube TV
While this isn't the first option for most fans, it's great if you're a casual viewer.
If your focus is to watch major games or games from smaller conferences, then YouTube is great. 
Many college teams have a dedicated YouTube channel. On these channels, they'll share recordings of full games. Some channels will also offer live streams for matches.
Another option is to search for college football live streams and you'll see results for live college football matches and replays.
You can also sign up for YouTube TV ($65 per month) where you'll have access to several popular TV channels. Among these, you'll have options for the different major sports channels.
This means you can watch live games, replays, as well as sports coverage. This is a pricier option so it's only ideal if you watch your matches on a regular basis.
If you have a large family then YouTube TV is great for everyone to watch what they want on their own screens.
AT&T TV NOW
For $65 per month, you'll have access to 45+ channels including major sports channels. You'll have access to ESPN, Fox Sports, as well as CBS, ABC, and NBC sports broadcasts.
This is a great option if you can't afford to miss any games. You can enjoy live games from a channel of your choice.
You'll also have DVR capability so you can record games to watch at your leisure. You'll have access to replays and sports coverage as well. 
That's How to Watch College Football Without Cable
Now that you know how to watch college football without cable, you can choose the options best for you.
Consider what budget works best for you to start your shortlist. Then, you have to decide how often you wish to watch college football games.
Do you want to watch live games? Is it important to watch replays and sports news? Use these criteria and you'll definitely find one of these options working for you.
Please share this guide with other college football fans. There's more great sports content on our website.