Do you have a passion for fashion? If you love to look and feel your best, wearing a stylish outfit is one of the best confidence boosters.
One main component that can make or break an outfit is accessorizing. For many people, their favorite way to accessorize is to wear jewelry. With eye-catching necklaces, earrings, bracelets, and rings, you can level up any look.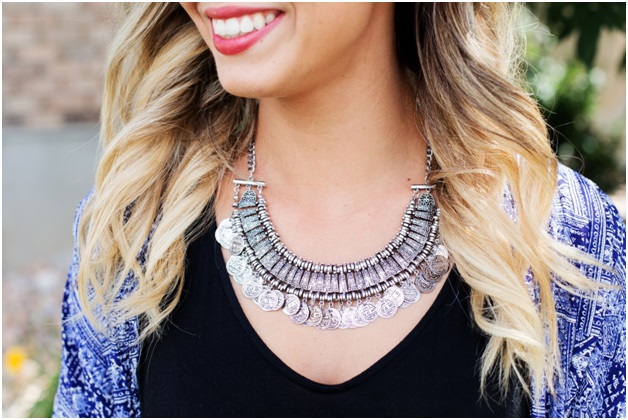 Do you know how to wear jewelry for your outfits? This article has all the top tips you need to know for how to wear jewelry the right way.
Keep It Simple, or Go Bold?
If you're wondering how many pieces of jewelry should you wear at one time, there is no one right answer. However, there are some basic guidelines you should know. Your jewelry should work to draw the eye and add to your outfit, not compete with other pieces.
When wearing an over-the-top pattern on your clothing, accessorizing with a bold, bright necklace may not always look the best. When wearing statement clothing, consider keeping it simple with minimal jewelry.
If you're wearing a minimalistic style, consider wearing more statement jewelry. With vivid colors and bright details, you can take an average look to new heights.
Mixing Metals 
Once upon a time, mixing metals in jewelry was a serious no-no. Today, that rule no longer stands. When choosing your jewelry, mixing metals is encouraged for a unique, head-turning look.
One of the top ways to mix metals when wearing jewelry is by layering necklaces, TheBracelets, and rings. Adding silver, gold, and bronze pieces into one look can create depth and interest in an otherwise minimal outfit. When layering mixed metals, be sure to combine warm and cool finishes for the most effective style.
Gems, Stones, and Crystals
Do you love gems, stones, and crystals, but don't know how to wear them? Have no fear. There are many trendy jewelry options for you.
If you want to wear more jewelry but don't know where to start, consider finding your birthstone. There are many pieces that beautifully represent your birth month and zodiac sign. You might wear these stones on rings, necklaces, earrings, bracelets, and more.
Crystals are another popular item worn as jewelry. Some crystals are used to ward off negativity and promote spirituality. Some common crystals you might wear are amethyst, opal, or quartz.
If you want to wear jewelry for a more classic, upscale look, Swarovski pieces are another top option. These man-made, glass pieces shine bright like a diamond and pair well with many outfit styles.
Wear Clean Jewelry
Dull, dirty looking jewelry is never ideal. Once you've found the right style of jewelry for you, it's important to regularly clean your pieces. This is one of the main ways to keep your jewelry looking new and in pristine condition.
To clean your crystals, gems, stones, and metals, consider using hot water, dish soap, and tea tree oil. These cleaning agents can clean germs, dirt, and grime off of your jewelry without damaging them.
Mix a few drops of the oil along with a few drops of dish soap in a bowl of warm water. Soak or scrub your pieces gently until clean. This method will keep your jewelry sparkling and beautiful.
Learn How to Wear Jewelry In Your Style Today
Now that you know the basics of accessorizing with jewelry, what are you waiting for? If you're ready to level up your look, find how to wear jewelry in your own unique style today.
If you enjoyed this article, check out our other posts on fashion, beauty, and more.