Every other day, a new beauty product is released, and although some of them are fleeting, others are in it to stay and for an extended period. The Skin Tint is one such beauty product, and if you've not heard of this before, it's essentially a base that helps level out the skin tone.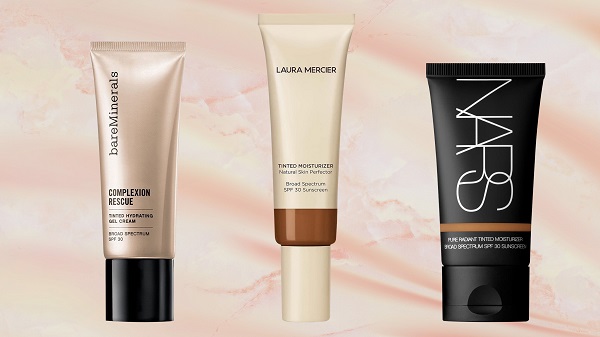 Skin tints are the newest beauty product to produce an appearance similar to your skin but better. They have such a lighter consistency than foundations or tinted moisturisers. They offer your face a more natural appearance, and they come in a wide range of colours and textures, but are these worth the hype? Should you put money into them?
What Is a Skin Tint, Exactly?
It is a light coverage foundation that feels silky on the skin and evens out skin tone. Unlike heavy foundation and concealer, they allow your skin to breathe and won't clog your pores.
If you have combination skin, skin tinting is a fantastic choice for days when you don't need a lot of coverage. It also tones the skin without blocking pores. Moreover, it gives you a more youthful appearance and does not melt like a heavy foundation (oily moisturisers).
For Skin That Appears to Be Healthy and Natural
It is a fantastic choice if you don't like wearing makeup. It's not heavy or cakey, and it leaves your skin looking extremely natural.
Maintains Hydration
Heavy foundations and lotions clog your pores and prevent your skin from breathing. But, using a tint may allow your skin to breathe plus hydrate fully.
Formulation That Is Light
If you've ever used foundation, you will be aware of how such layers can feel heavy on the skin. It can sometimes seem so severe that it cracks in places like the forehead and around the nose. But that is not the case with tints since they are light.
Application Process Is Simple
These tints are available as liquid or in the form of powder and are pretty simple to use. All you have to do is apply it all over your face and carefully blend it in. Moreover, a modest amount of the substance can last a long time.
What Is the Best Way to Apply a Skin Tint?
It's not difficult to apply a tint. After washing your face well:
Add a small amount with a tint to your index finger.
Apply a few dots to your neck and face and blend gently.
Ensure you do not even rub the item in because this can cause lines.
Gently blend outwards. You can use face powder or a compact to finish.
Most of these skin toners include glitter in them, so you don't have to use a highlighter. These days, you can even obtain them in the form of a gel. As such, based on skin type and budget, you can choose one for yourself.
What Sets It Apart From a BB/CC Moisturiser or a Tinted Moisturiser?
BB and CC lotions are often thicker + meringue and contain a mix of sunscreen, moisturiser, colour-corrector, and foundation. They have a lightweight continuity and only give your skin tone a light and wholesome wash of colour. In contrast, BB and CC lotions are often denser + meringue and contain a combination of sunscreen moisturiser, colour-corrector, and foundation. Tinted moisturisers, on either hand, deliver maximum moisture to the skin while providing coverage that can be built up.
Why Is It Worthwhile to Buy It?
It can easily be applied and go without using a mirror because the coverage is very light. It's also perfect for newbies, people who want their pores to breathe, and for times when the temperature reaches a sweltering 40 degrees (as it does virtually every day in Australia), but you want to appear #snatched!