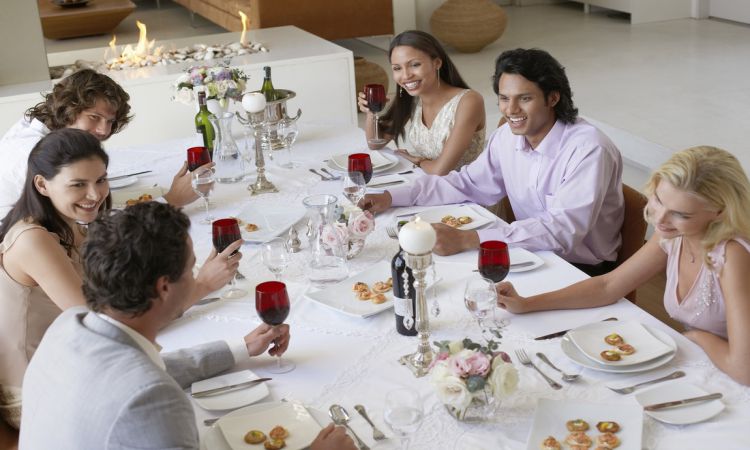 It can take an average of 10 hours of work to plan and implement a dinner party. That is why it takes a lot of planning to avoid stressful situations like rushing and forgetting things.
If you want to throw a successful shindig then you need to start early and use some organizational skills.
Use this checklist for dinner party planning made easy.
Give Yourself Time to Plan
Start your dinner party planning well in advance. A month is about the minimum about of time that it takes to complete all of your tasks and give your guests enough notice to clear their schedules.
Once you decide that you will throw a dinner party then follow this sequential list to ensure you will not have to backtrack or make changes.
Pick a Theme
The best place to start when learning how to plan a dinner party is with the theme. This will determine your decorations, food items, and even your guest list.
Pick a motif that is seasonally appropriate, creative, and universally understood by your guests.
Decide on a Date
If your guests can not make it to your party then it will be a flop. That is why your dinner party checklist should include thoughtful consideration of the date.
Avoid major holidays and odd times like weekdays. Also, check your schedule to be sure you will not be busy before the party, leaving time for last-minute preparations.
Design a Menu
The best dinner party ideas can be found in the food that you offer. This may be the trickiest part of hosting a party because you want to impress your guests without leaving anyone out.
Therefore, offer a variety of food that is of the same quality. Read more here if you prefer to hire a professional chef that can help you decide on a menu.
Send Invitations
Include some aspects of the above decisions in your invitation to inform your guests of proper attire and the expected dining experience. And, of course, include the time, date, and location of your party.
Clean Your House
When hosting a dinner party you want your guests to be as comfortable as possible. So, start cleaning and rearranging furniture to make your space conversational and clutter-free.
Decorate and Choose Music Selection
Decorations can be as subtle as setting the table, adding fresh flowers, and creating mood lighting. You can embellish more if your theme is eccentric.
The ambiance is important and music always sets this tone more than anything.
Shop and Prepare Food the Day Before
Whether you hire a caterer or not, you should pick up grocery items the day before and prepare anything that will not spoil. This will save you from running out of the house right before your guests arrive.
Finishing Touches
A few hours before your diner party is time to get dressed and add any final touches to your decor. This should be a relaxing time without any major tasks left incomplete.
A Failsafe Checklist for Dinner Party Planning
When you follow this checklist for dinner party planning you can be sure that nothing will be forgotten. It also helps by keeping your tasks in order, avoiding the nuisance of changing your menu, guest list, or date.
Check out our Healthy Food section for some yummy recipes to serve at your next dinner party.