Some do it out of necessity; some do it out of pleasure, but all of us sooner or later get down to refreshing and remaking our living space. For some, this may be an uncalled-for expense, for other an immense pleasure.
Be it as it may, refurbishing your living room can always be made easier, cheaper and more fun. Finding the right furniture store is just the start of it all. The most important thing is to define what really needs to be done, and what objectively needs to be replaced, and what things you yourself wish to change, even there's no urgent need for it.
In any case, in the aftermath, you need to feel at least as good and as comfortable as you did before the makeover, or preferably to enjoy spending time in your living room even more than you did before. This is the space where you spend a lot of time and it shapes a big portion of your life, your mood, your health, your efficiency, and many more. That's why it needs to be fit for your needs and preferences. So here is how to make it so with minimum effort and a minimum budget.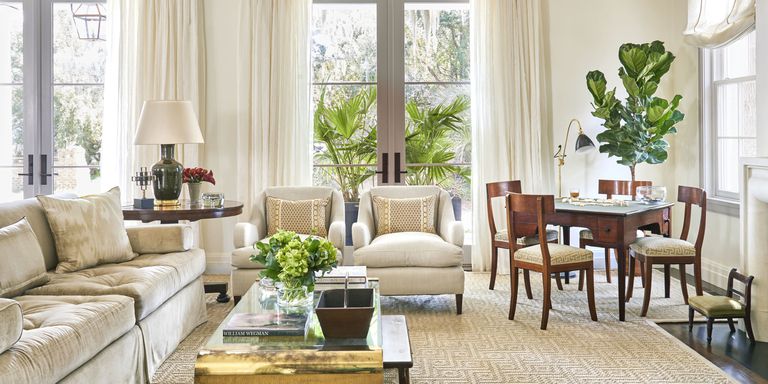 Where to Start?
Well, the best place to start with you living room makeover is something basic, but with a lot of impact – probably the walls. Whether you opt for painting or for wallpaper, this will greatly affect the overall look and atmosphere in the room. Painting will additionally freshen up the space, as it will actually serve as a kind of disinfection.
Choose the color (or more of them) you really enjoy and that makes you feel good. Depending on the effect you want to create, you can choose the usual white, beige or some other unassuming and inoffensive color. If you have skirting boards in the living room, then check out the best paint for skirting boards.
However, if you want to spice the room up a bit, you may want to go with some stronger nuances, for instance, blue or green for a relaxing effect, or earth tones for a warmer, cozier atmosphere. Also, there's a wide variety of wallpapers, so you can choose a pattern or an image which will look good, but at the same time make you feel pleasant and comfortable in your room.
Put Some Meat on Those Bones
If you've redone the walls, it is not time to fill the living room with furniture. This can sometimes be quite an item on the budget list. You don't necessarily have to buy the new furniture, you can simply reupholster it, get the new slipcovers or cushions.
But sometimes it's a good idea to replace the piece of furniture that is being used the most and is probably in the worst condition. In case that's the sofa, get a new one, but even then don't need to buy new armchairs, you can get away with just refreshing your existing ones with some details; provided that they match the style you are going for.
Or vice versa, if the armchair(s) is the place to be and its seat is already used up and deformed, get a new armchair. Also, if all your furniture is in good condition and there's no need to buy a new one, try with some accessories, from coffee tables, lamps to pictures and plants. All these things can help your living room become an even more pleasant and comfortable living space.
One more thing, floor coating can help you to refurbishing your living room. For floor coating, you can check out contreat.com.au.
Where to Next?
The floor often gets skipped over during refurbishing, except if it is in really poor shape. Take a close look at your floor when planning to do some work in your living room.
Depending on its condition and on your wished image you may or may not need to change your floor. If you're going for the warm, homey look, wooden floors will do just fine, under the condition they're in good shape, or at least in a repairable shape.
If you prefer to move to something more modern, you have numerous options nowadays. Even tiles can look great and do a wonderful job if you choose the right shade and material. Of course, the easiest and the cheapest solution is always to get a new rug which gives the desired effect to your room or to opt for wall-to-wall carpeting in case your floor doesn't look too great and you're not in the position to replace it at the moment.