Wristwatches were once invented to let people check the time without any trouble. But in today's world, you can't merely pick any watch option. You have to ensure it fits into your unique style and fashion. Otherwise, it can destroy your entire outfit. For example, you can't wear a sports watch with a formal outfit. If you don't wish to make any mistakes with this little yet vital tool, then Seiko Coutura is the perfect solution for you.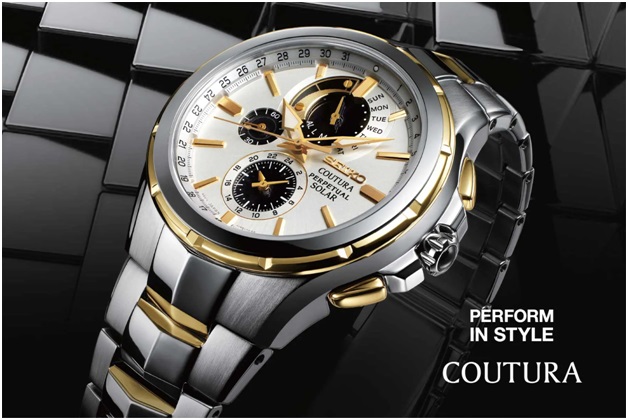 You can get that fantastic feeling just from the Coutura watch's first look. Still, you need to understand why these variants hold a special place in the market. In this reference, here are five unique features that make Coutura the perfect accessory for all your outfits.
#1 Sapphire Glass
The complete collection of Seiko Coutura Watches consists of sapphire glass on their dials. This crystal is usually more classy and durable as compared to other available glasses. What makes it further beneficial for you is that it is damage resistant. It means you can regularly wear the watch, even in extreme conditions, and the crystal will remain intact. All in all, you won't notice any scratches or shattering easily on the dial.
#2 LumiBrite
The purpose of wearing a watch doesn't get effectively fulfilled if you aren't able to use the device in the dark. However, you won't face this problem with Seiko Coutura. This range comes with LumiBrite paints on their dial. It enables the surface to absorb tremendous amounts of light and reflect it in times of need. Hence, it can glow much brighter for a long duration. In this way, you won't have to face any difficulties at any point in time.
#3 Timeless Designs
When you opt for something as classy, trendy, and luxurious as Coutura watches, you expect their designs to last long. Else you will have to switch your device now and then to meet the latest trend requirements. To help you avoid this problem, Seiko has designed the entire collection of Coutura very carefully. You can pick any variant, and you won't have to worry about changing it anytime soon because of its timeless design. It will make you look classy even if you wear it years after now. Therefore, you can make the most out of your investment.
#4 10 Bar Water Resistance
You remain surrounded by water almost all the time. That is why it is near impossible to secure your watch from it. But there is nothing to worry about with Seiko Coutura, as the range comes with 10 bar water resistance. So, in case some water gets splashed on the watch accidentally, you won't end up damaging it.
#5 Overcharge Prevention Function
As you wear your watch every day, it becomes a part of your life. Thus, it is heartbreaking to see it get damaged due to one reason or the other. To avoid this, Seiko Coutura watch variants come with an overcharge prevention feature. Under this, the watch doesn't get overcharged and ends up damaging the functioning. In simple words, it remains intact for the longest time.
Now that you know what makes Coutura watches the best in class, you should check out the collection and pick the ones that appeal to you the most.