You are thinking about covering your sliding glass door, but can't find a perfect solution for your taste? And vertical blinds don't suit your style, even though they are durable and can span wide distances? Then we have several solutions for you to find a perfect alternative.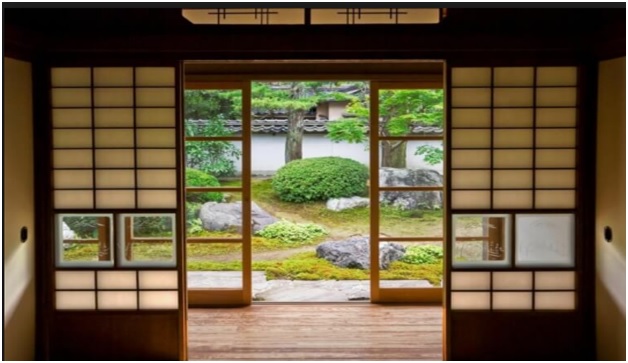 What you need to know beforehand
Custom window treatment is rewarding but expensive. You don't want to make mistakes and end up with more expenses.
Every sliding glass door will need an outside mount. It's because of the size of the doors and their functionality. Such a style is perfect for sliding glass doors.
Your door handle may come in the way of the window treatment. You need to find a solution that won't be troubling.
Sliding glass door window treatment solution ideas
The top rated solution for sliding glass doors are sliding panels. They are extremely easy to operate and have a smooth style. They come in hundreds of fabrics, which is great because you can choose the one that matches' your house's design.
Sliding panels have flat vertical panels of fabric. They can slide to cover and uncover the window with the manual work and remote control. You can choose the ones with light filtering, for blackout reasons and other fabrics that control the light and privacy in the room.
These shades are perfect for those families who love to control the temperature in the room. They come in a honeycomb-type fabric that allows the air to flow in a way that summers are cool and Winters are warmer. These shades give the room more modern look than the vertical blinds. They mostly come with the remote control, so no manual work is needed.
They come in hundreds of colors and options for privacy, blackout and light filtering. Keep in mind that they can wear out and get dirty easily, especially if you have pets and small children at home. Visit affordableblinds.com
Draperies are great for people who want more classic look of drapes but want better functionality and features. They add softness and smoothness to the room. They come in hundreds of colors, patterns, and prints, all to match your taste. The choice in fabric is great too. They come with thermal lining, blackout and privacy options.
Draperies go over the door. They hang there like the drapes and completely cover the whole door. They mostly come with manual control.
If you have shutters installed on your windows, then your sliding glass doors might get one too. They cover the doors with large shutter panels that can slide accordingly with the door.
Shutter panels are not for those who don't want half of their doors to be covered all the time. This window treatment is for people who like classical style, controlling light and privacy. They are easy to clean with soapy water and don't get dirty too easy.
While you are reading these Dos for the sliding glass doors, you should also look into Donts of the sliding glass door window treatment. Avoid wooden blinds, faux wood blinds, and mini blinds. Contact a professional if you feel like you need a piece of advice and make youre sliding glass door fabulous.