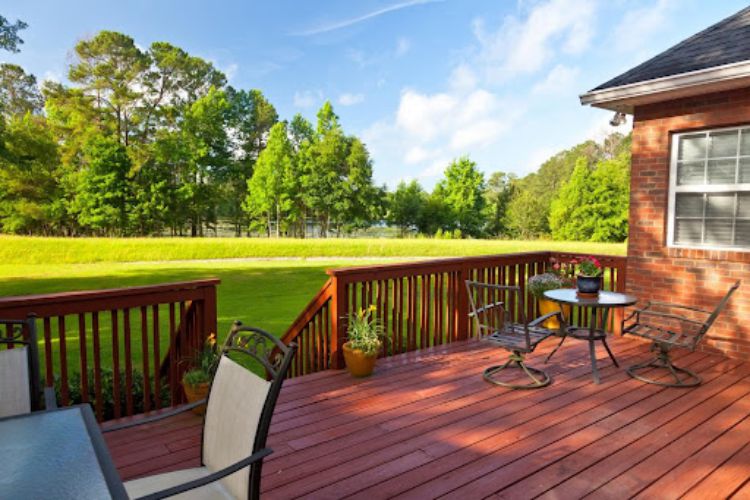 No thank you, I'm not keen on sundowners on the deck – said no-one ever!
For some reason that we're yet to understand completely, a new deck brings its own magic and ambiance to your home. Having a space that can host either a Sunday barbecue or a cocktail party is awesome. And in the meantime, it provides a quiet place to sit with a cup of coffee and contemplate life.
Furthermore, this versatile living area adds to the value and aesthetic of your property. 
But wait, we're getting ahead of ourselves. Let's take a step back and explore five exciting reasons why you should build a deck at home. 
Build a Deck for Curb Appeal
When you add a deck, you'll soon realize that it is not just about adding something beautiful and functional to your property, it's also about improving it. 
A deck can really change how your home looks and may even increase its value. Increasing your house's curb appeal gives potential buyers more reasons to be attracted to your home and want to purchase it. It somehow adds an aspirational element to your already beautiful home. 
Build a Deck to Host Family Gatherings
Of the many reasons to build a deck, one of the most popular is to host family gatherings. Whether it's having your kids over for a barbecue or hosting an epic night of cards with some close friends, building a deck gives you the space to do just that. 
One of the great things about choosing the right deck for your property is the incredible range of options available to you. Whether you prefer a rustic wooden option or an upmarket structure crafted by skilled masonry professionals, your deck will be the perfect place to gather. 
Outdoor Entertaining
Get a deck for your home; it is not only an excellent way to make more use of your outdoor space, but it's also a great project that you can do yourself. (If you're the DIY sort.) Either way, once your deck is built, you'll be able to enjoy all sorts of activities outside in comfort and style.  
One key aspect of having a deck is that it provides a blank canvas for any function. String up some festive lights and tables for a more formal affair, or scatter some comfortable seating and snack tables for a night under the stars with friends. 
Help Your Home Appear Larger
As far as house upgrades go, adding a deck to your home will greatly increase your living space and make it appear larger than it is. The open structure of most decks makes them perfect for entertaining and relaxing, not to mention that adding a deck can help bring all of your home's rooms together by giving you extra space to move around in. 
Building a deck allows you to create an inviting outdoor area without sacrificing any indoor space.
Increase the Value Of Your Home
If you're considering home upgrades that add value to your property a deck is one of those classic home improvement projects that can do just that. 
Building a deck on your property can be an excellent addition to your home and add to its overall value, which means the investment you make in the project will pay off, whether you're planning to sell your home right now or not. 
Let's Get Decking
So, whether you're looking to add value, add space, or create an aspirational living area for you and your family,  it's clear that a deck is a key way to do it.
While we've only listed five common reasons to build a deck, we're sure that you will have your own motivation. Choosing and designing the right outdoor space for your home is an exciting project, why not dive right in?
If you've enjoyed this article please feel free to scroll through some of our other helpful home pieces.