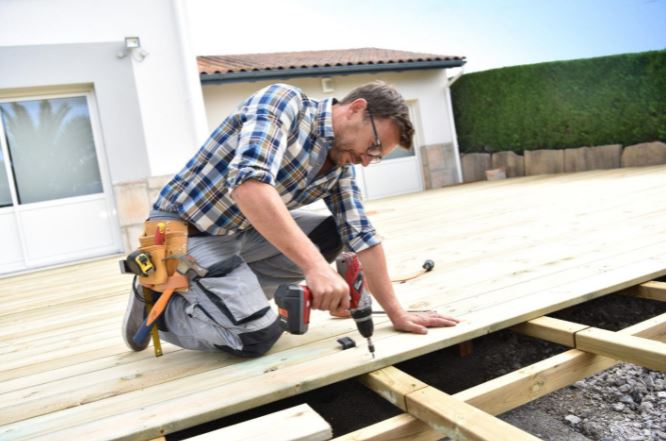 At long last, you're ready to build a deck on your property. You've got the money but what you don't have is a reputable decking contractor. That's why you're reading this: you're looking for help in finding one. 
Fortunately, we can help you with that matter. So, without further ado, here are 6 factors to consider when choosing decking contractors. 
Experience
When choosing a decking contractor, you have to put some stake in the contractor's experience. Experience breeds skill. So, if a decking contractor has no experience, his or her work is bound to be rough around the edges. 
We recommend choosing a contractor with at least 2 years of experience under his or her belt. This is adequate time to hone skills and do away with recurring mistakes. It's also sufficient time for the contractor to fine-tune his or her business practices. 
Whatever you do, make sure you don't hire a brand new contractor. He or she might be able to get the job done, but you don't want to be the guinea pig that's used to find out. 
Materials Used
As you probably know, decks can be made out of a variety of different materials. These run the gamut from wood decks to engineered wood decks to composite decks and more.
While all of these materials are similar, their installations vary. As such, when choosing a decking contractor, you need to be sure that he or she has installed your material of choice in the past. 
And don't just take his or her word for it. Ask to see pictures of the work that was done so that you can get a proper gauge of his or her ability. These pictures can go a long way in helping you decide which contractors are worth your time. 
Insurance
Insurance is an important thing to consider as well. After all, anything can happen while a deck is being installed. And since the deck is being installed on your property, you could end up being held liable for things that aren't your fault. 
That is unless, of course, your contractor is insured. See, insurance covers not only damages that the contractor does to your property but injuries that occur to the contractor's employees while on your property as well. 
If your contractor wasn't insured, you could end up being saddled with the costs of these issues. You might even find yourself in a situation where you have to file a lawsuit in order to free yourself from liability. 
You don't want to have to do this. So, make sure that the contractor has both general liability and workers' compensation insurance before getting started. 
Note, insured deck builders should have proof of their insurance. Ask to see this proof before signing any contracts. 
Personality
You don't need your decking contractor to act like a movie star or a comedian. But you should ensure that he or she has a decent personality (ie. not offputting). If a contractor has a poor personality, he or she is likely to be a pain to work with. 
Now, how can you go about assessing a contractor's personality? We recommend giving the contractor a call. Assess how he or she acts on the phone and then determine whether you're satisfied. 
Does he or she sound annoyed that you called? Is he or she reluctant to answer your questions? Is he or she rushing you or talking over you? 
Sure, jerks are capable of building decks. But there are many good people out there who are capable of doing the same thing. Opt for these good contractors to ensure the best experience possible. 
Online Customer Reviews
One of the biggest benefits of the internet is that it enables consumers to read reviews from past customers of contractors and businesses. This is a huge advantage, is it allows consumers to inform themselves on the pros and cons of every business or contractor. 
In short, when comparing options for contractors, make sure to take advantage of these online reviews.
Determine whether they're primarily positive, primarily negative, or somewhere in the middle. See if they help you answer any pressing questions. Some might even contain responses from the contractor, indicating how he or she handles specific situations. 
The point is to utilize these reviews as much as possible. They can be hugely helpful in deciding your final choice.  
You can find these reviews on a number of sites. However, Google, Facebook, and Yelp are the most popular. 
Price
You likely don't need to be told this, but a contractor's pricing is an important factor to consider. Prices can vary wildly and you want to make sure you're hiring a contractor that you can reasonably afford. 
Give a call to the contractors you're considering and describe the type of work you need to have done. Ask for cost estimates of this work and write those estimates down on a piece of paper. 
Then, once you have the estimates in hand, pit them against one another, comparing decking fees, labor costs, and other miscellaneous charges. Be a little cautious of estimates that are exceedingly lower than the others (they're often a sign of poor quality work or general inexperience). Instead, take aim at estimates that float around the area average. 
In any case, make sure the contractor's services don't blow up your budget. A deck is a nice thing to have but shouldn't leave you scraping by. 
Choosing Decking Contractors Doesn't Have to Be Hard
Simply put, choosing decking contractors doesn't have to be hard. Just consider the factors discussed above and you're sure to find the right deck contractor for you. 
On the search for similar tips? Our website has you covered. Check out our other articles now!