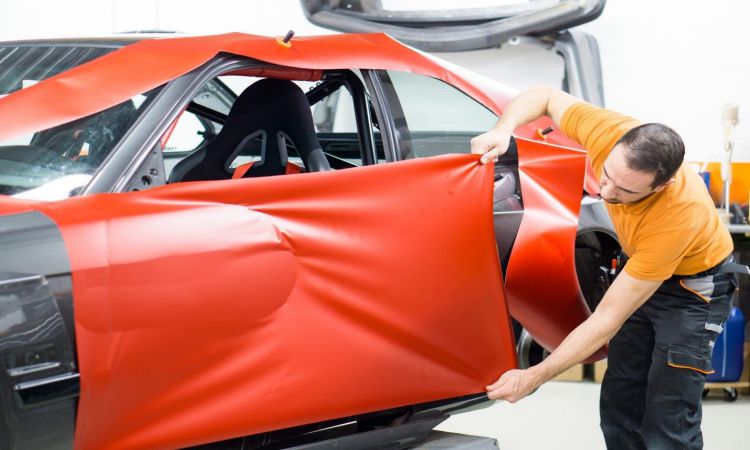 What is a car wrap? If you are looking for unique and memorable ways to market your business, you might have thought about this question once or twice.
In a nutshell, a car wrap involves covering a vehicle in vinyl material. While the wrap can be an alternative to painting, it can also be printed with your brand logo and message. 
Custom car wraps are ideal for memorably promoting your business. By using these wraps, you can successfully advertise your business in a low-maintenance and affordable way.
If you are thinking of using car wraps for your business, here are several reasons why you should. 
1. Wraps Provide Constant Promotion 
One of the benefits of wrapping a car is the constant promotion of your business. Until you take the car wrap off, your business will be promoted to whoever sees the car. If you want constant promotion for your company, search online for "car body wrap near me."
2. Wraps Are Consumer-Friendly 
A great reason to use car wraps for business is that they are consumer-friendly. Other methods of advertising may be aggressive or intrusive, causing consumers to skip ads and pay for add-free platforms. However, car wraps are not forced on the consumer, making them much more consumer-friendly.  
3. Wraps Provide Local Advertising 
One reason to advertise with car wraps is to boost your local reach. Car wraps are a great way to increase your brand awareness and visibility in the community in which your business is located. 
4. Wraps Are Cost-Effective  
Marketing can be expensive, which may be off-putting to micro and small business owners. However, wrapping a car is a cost-effective way to market your business to a large and local audience. 
5. Wraps Are a Mobile Marketing Opportunity
One of the many benefits of custom car wrapping services is that they provide an opportunity for mobile marketing. For billboards and other static marketing methods, consumers have to travel to a specific area to see your advertisement. However, consumers can see a wrapped car at any point in the day, in any area. 
6. Wraps Are Easy to Update
One of the best benefits of custom car wrapping is how easy it is to update. If you want to promote a specific product, service, or event, you can quickly and affordably update your wrap to reflect the changes. 
7. Wraps Leave a Lasting Impression
Ultimately, car wraps are great for leaving a lasting impression. You have a chance to advertise your business in a non-threatening way, which will encourage more engagement with your brand. 
These Are the Benefits of Custom Car Wraps for Your Business
There are several reasons why custom car wraps are a great idea for your business.
Car wraps are a consumer-friendly way to provide constant promotion for your business. They also are great for local advertising, are cost-effective, and provide an opportunity for mobile marketing. Best of all, car wraps are easy to update and leave a lasting impression.
In short, using car wraps can provide a variety of benefits for your business. 
Don't forget to browse our site for advice on business, technology, fitness, and more.