Creativity and inspiration are the two things that characterize students. These factors often impact their worldview and lead learners to unconventional and highly successful business ventures. Most importantly, these people appreciate novelty and add value to every project they are working on. This time, jewelry is in question.
As is the case with many other industries, students are revoking the standards. Even the specialists from https://essaypro.com/ say that since jewelry programs were launched in the universities, they have received hundreds of writing orders on the subject.
The industry will inevitably see a rise in jewelry projects promoting the use of unconventional materials. This article will discuss several students' jewelry brands that have become popular globally.
Mociun
Known globally for her designs, a Rhode Island School of Design graduate Caitlin Mociun widely uses diamonds in her collections. She managed to make asymmetry fashionable again.
Her asymmetrical designs are especially loved by millennials, who usually tend to choose cheaper jewelry options. Apart from the diamond collection, Mociun also offers a selection of home goods and handmade stoneware ceramics available at the brick-and-mortar store in Brooklyn.
Erica Weiner
Erica Weiner started as a young self-taught jewelry designer in the mid-2000s. She was a young girl whose passion for jewelry was never taken seriously. However, she managed to succeed by releasing a collection of re-fitted vintage charms and chains.
Later, Erica continued implementing antique-inspired ideas in her jewelry projects using recycled gemstones. Her specialty is creating new pieces of jewelry with antique ideas. She also adds symbolic features to make her jewelry memorable.
By Alona
A daughter of a fine jeweler, Alona Shelemy, has been exposed to the art of jewelry for her entire life. No surprise that she grew and decided to create a story of her own. At a young age, Alona created her own collection, which was successfully sold via the Internet.
Later, she has opened a store where the most successful and stunning jewels were sold. Alona believes that some of the jewelry pieces are too beautiful to be sold online.
Anissa Kermiche
Anissa Kermiche was an Engineering student when she started working on her jewelry collection. She soon realized that engineering was not for her. Anissa decided to add a bit of creativity to her work and started designing jewelry products.
She was creating jewelry for herself and wore them at the university and work. When she got a chance, she released her feminist jewelry collection intended to celebrate strong women.
Adina's Jewels
Adina Kamkhatchi is a 22-year-old jewelry designer who started her jewelry company when she was a first-year student. Today, she owns a multimillion-dollar jewelry business.
She has always had an eye for jewelry but never took it seriously. However, with $1,000 of investments, she decided to try.
Adina bought beads, pearls, stones, and other materials with this money and created a collection that was soon recognized by Instagram-famous celebrities.
Emmanuel Tarpin
This French-based jewelry designer is known for unique pieces of jewelry. Each of them has its own story to tell. He uses unique materials, including gold and aluminum, feathers, silk, etc. to make his jewels look like works of art.
Emmanuel became especially famous after Rihanna wore his jewels to one of Oskar's after-parties. Later on, his company faced over a 400% increase in sales. This is a notable success for a guy who has been in the industry for just a couple of years.
Amanda Thomas
Amanda Thomas is now 29, but she started her jewelry line when she was just 16. As a teenager, she created and sold her pieces to friends and neighbors. However, real fame came to the brand when she launched an online store.
Later, Amanda's edgy gold designs were seen worn by Bella Hadid and Kendall Jenner. Nevertheless, her jewelry remains affordable and very much loved by teens in the US.
Most of the projects issued by Amanda Thomas have gorgeous sparkly accents that are hard to miss.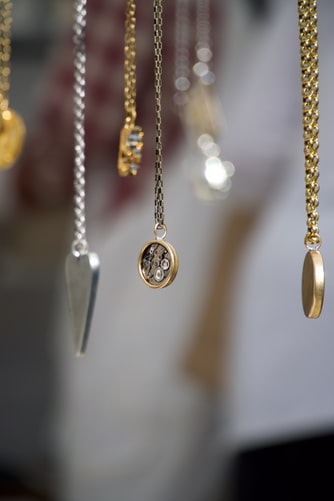 Final Words
Similar to artworks, jewelry is an artistic representation of the generation. The materials and shapes young jewelers use for their projects impact the overall development of the industry.
Thus, it is especially interesting to analyze students' projects that become famous and recognized across the world. Most of the jewelers discussed above have no special education.
The jewelry programs have just recently emerged in the university's lists. Nevertheless, young people find ways to express themselves creatively and unconventionally.
This brings both recognition and satisfaction, turning these creative persons into successful entrepreneurs at such a young age.
The good thing is that such projects are usually supported by celebrities. They seek young talents with creative ideas and provide support to them by advertising their products.