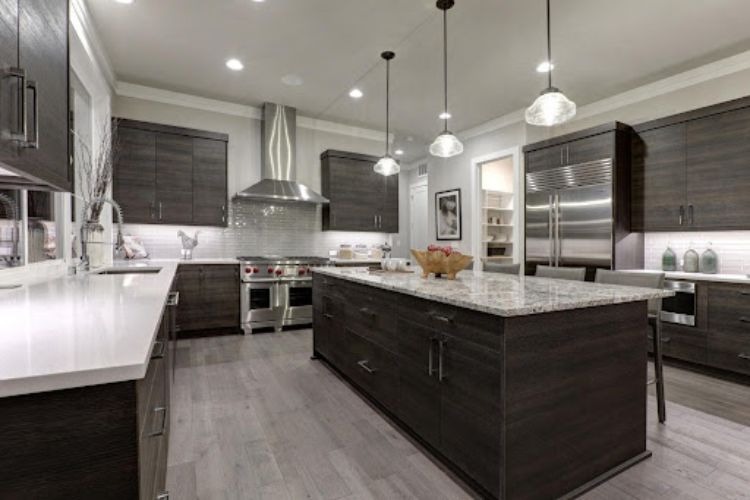 Whether small or large, the kitchen is the heart of the home. It's where meals are created to fuel our minds, body, and souls. And don't forget the eidetic memories you create there with your loved ones.
At all times, you strive to revamp your kitchen to improve its functionality and style. You've already installed a striking backsplash, new cabinets, lighting fixtures, and new flooring. But wait, so you are yet to achieve the envisioned dream kitchen.
Well, your kitchen countertops could be blamed. With the different types of kitchen countertops available, when's the last time you spruced them up? It's time to replace your countertops to transmogrify the kitchen space.
But it's easier said than done; you've got a myriad of options to choose from. When making your choice, you must consider the price, maintenance, style, and durability. Also, do you opt for laminate, wood, tile, granite, or marble material?
It's easy to get overwhelmed with the multiple options in the market. But worry no more; you are on the right page. To get you started, here are kitchen countertops tips to consider.
Granite Countertops
If looking for natural stone with great durability, then granite countertops are the best option. It comes in a range of light and dark colors with different variations and flecks. Also, granite cut in different shapes achieves certain shapes on the edges.
By installing granite countertops in your kitchen, you add value to your home. The material is almost maintenance-free, but you should avoid harsh cleaning products. All you need is some soap and water, and your countertop will look as good as new.
Also, you don't have to worry about placing hot pots on the counter. Granite is a heat-resistant material and impervious to heat. In addition, the counter can act as your trivet but be careful as it can dull the knives.
However, it's not all rosy with granite counters. One of the drawbacks of this material is that you'll have to dig deeper into your pockets. In addition, granite is not suitable for DIY installation, and if improperly installed, it can crack.
Granite is also porous and needs sealing to prevent staining.
Soapstone Countertop
Soapstone is a natural stone with a soap-like, silky feel and mostly dark gray in color with green or blue undertones. Today, most homeowners are opting for soapstone instead of granite. While this material was mostly used in homes with contemporary design, it is also being used in modern homes.
Similar to granite, soapstone requires minimal maintenance, but it's non-porous. This means this material is bacteria, stain, and heat resistant and usable as sink or countertop material.
Soapstone has a unique appearance and can perfectly suit certain kitchen styles. With a soapstone countertop, your kitchen gets an appealing, antique, and historic look.
However, this material can darken over time and need treatment with mineral oil. Also, the surface can dent and scratch easily.
Marble Countertop
Perhaps you are looking for a striking, high-end counter material. If so, search no more; marble is your ideal choice. It's a natural stone that enriches your kitchen, giving it a unique, contemporary, and clean feel.
Also, there are no two marble sheets that are the same. This means you not only get the bright marble finish, but you also get a unique counter. By installing marble countertops in your kitchen, you significantly improve your home's value.
One of the major drawbacks of marble is that it's very expensive. Also, it gets easily scratched, and when it does, it can't be repaired. It's also porous, and temporary stains might become permanent.
Quartz (Engineered Stone)
If you have a large family, cook multiple pots, or want to invest in a durable countertop, then quartz is the ideal material. The reason quartz is referred to as engineered stone is that it's not 100 percent quartz. It contains about 93 percent of quartz particles and other minerals and is shaped into bound and slabs with resins.
Since they are man-made, quartz material can look like a natural stone and still offer durability. Also, it comes in a wide range of colors compared to granite, and its non-porous surface makes it scratch and stain-resistant. You can find quartz countertops with the exceptional beauty of natural marble.
Unlike marble and granite, DIY enthusiasts can install quartz countertops in their homes. This material can also be customized to suit any shape and size.
Tile Countertops
Are you on a budget looking for a less expensive countertop option? Well, tile it is. Also, a ceramic countertop is a great option for those good with DIY projects.
They come in a range of shapes, sizes, and even materials. You can find porcelain, natural stones, and even ceramic tiles. Durability and maintenance of the tile countertop will depend on the material it's made of.
Tile countertops are easy to clean, affordable, and resistant to heat damage. However, they are brittle and can easily break under impact. Also, if you opt for custom tiles, you'll have to pay more.
Butcher Block Countertops
If looking for an affordable alternative to natural stones, butcher block is a great choice. Also known as wood countertops, butcher block is made of wood pieces bonded into a larger slab. They are made from almost any type of wood, including oak, maple, cherry, and teak.
Butcher counters offer an aesthetically appealing look, and they come in multiple finishes and colors. With a wood counter, you don't need a chopping board. However, if sealed, you need to prepare food using a different cutting board.
Without proper maintenance, bacteria can thrive on this material. Also, it's easily damaged by stains, water and will crack is not oiled and sealed frequently.
Check Out the Different Types of Kitchen Countertops
No kitchen is complete without countertops. Whether building or renovating your kitchen, it's imperative to choose the best kitchen countertops. Conduct firsthand research to know what to look for and make an informed decision.
You now know the different types of kitchen countertops to consider.
Did you enjoy reading this article? If so, check more informative blogs from our website.