The ideal nappy bag is a hybrid of style and function, with a sleek and attractive exterior and top-notch organisation on the inside. Meanwhile, many new parents try to stuff everything into an old backpack or turn their gym bags into baby bags. However, modern nappy bag backpack alternatives are far more stylish than you might expect, and they are also suitable for carrying and storing baby stuff. But how can you pick the right baby bag for your requirements? Some essential tips are explored below for your understanding: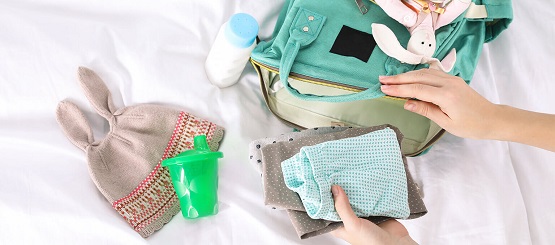 Neutral Style
Homemade baby bags with cartoon patterns and patchwork panels were popular in the past. While these sweet bags were made with affection by a devoted grandma, friend, or godparent, they didn't exactly scream sleek unisex design.
While manufacturers design nappy bags with moms in mind, newborns require the same equipment regardless of who they are with. And it's a good idea to seek a unisex design that will work for dad, grandmother, or anybody else who will be accompanying your kid out. So look for bags that have a neutral style that both men and women can wear. People who value comfort and carry a lot also use bags that come with cushioned backpack shoulder straps.
Handy Pockets
While there is little you can do to prevent mess, you can prepare yourself to deal with anything your child throws at you. Wipes, tissues, bibs, and other essentials you'll need at a moment's notice may all be stored in the large, easy-access pockets on the front and sides of your nappy bag. On the other hand, these pockets are ideal for keeping your phone and keys when you don't want to take your purse. As such, you'll be able to travel lighter while still having all you need for a day out with your kid.
Wide Compartments
A baby bag's key characteristic is its several compartments. Meanwhile, clean-up supplies, such as baby wipes and diaper cream, may be kept separate from food items, such as on-the-go snacks and formula, using these. It's also simpler to detect what you've forgotten or what's running short when each vital item gets its box.
However, many baby bags cut corners and don't provide enough capacity for your baby's requirements. While one or two tiny pockets help store small items like a backup dummy for a fast trip to the grocery, they are insufficient for a day at the beach, park, or shopping centre.
Stain-Free Interiors
Messes may happen on the inside of your nappy bag no matter how careful you are. As such, a wipeable and stain-resistant interior bag makes life simpler because you don't have to worry about spilled formula or a bursting tube of baby sunscreen spoiling your bag.
After each usage, it's good to inspect your baby bag to remain on top of supplies and stains. This way, you'll be able to wipe up spills before they dry, develop stains, and double-check that you have adequate supplies for your next excursion.
As the pointers above demonstrate, there are several considerations to make while selecting a baby bag. While beauty, durability, and usability will always be essential factors, picking from various beautiful designer diaper bag alternatives with thoughtful additions makes the selection even more confusing. However, once you've found the right baby bag, you'll be ready to take on any obstacle!