Prepare for a busy season of hauling hay, handling bales and taking care of other tasks around your property. Whether you're working for a commercial farm or enjoying the fruits of your hobby farm, check out hay spears, grippers and 3 point bale forks for sale online. Upgrade your tractor and skid steer with these conveniently specialized attachments.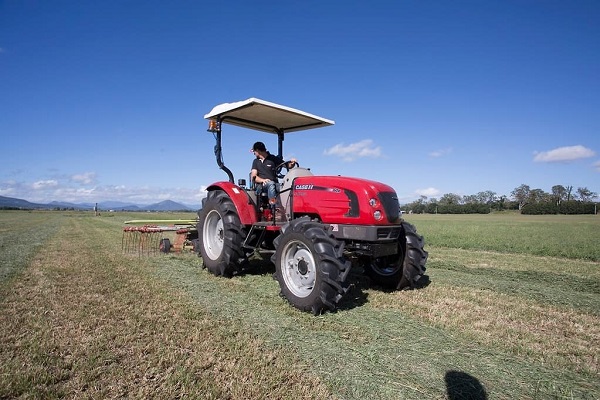 Hay Spears and Forks
Hay spears are sturdy, pointed rods that can slide into round or square bales and secure them as you lift them. Unlike a bucket or pallet forks, a spear reduces the risk of a bale following over as you lift and transport it. Spears come in a range of lengths and thicknesses, so be sure you choose one that fits your typical bale sizes.
Hay forks are a set of pallet forks with a removable hay spear. This attachment offers you the security of a hay spear with the added stability of forks. Not only can you spear a bale, but you can carefully support it from below as you hale extra-large bales and lift them onto a trailer.
Stabilizers and Additional Attachments
A basic hay spear can perform most tasks you need, but you may want to consider additional attachments for specialized performance or commercial use. Here are just a few extra features you can enjoy when you choose specialized bale spears for sale:
Bale spears with stabilizers
Buckets with multiple spear tines
Hay frame
Hay spear bucket attachment
Double spear attachment
These items add additional security or allow you to lift multiple bales at once. If a single spear isn't enough for your large operation, upgrade to an even more specialized attachment. A single spear can't handle multiple bales, so create a more efficient handling system with additional spears and stabilizing points.
Bale Grippers
Another convenient alternative for handling both round and square bales is a bale gripper. These dynamic, hydraulically powered items use wide arms to squeeze a bale. Round bale grippers have curved arms, while square grippers use shorter, flat arms.
Both options offer professional performance for commercial or personal farms. Stack even more hay in your barns or on your trailer by carefully navigating the area with a secure bale. This attachment allows you to handle large bales very quickly, cutting down on the time it takes for bulk bale handling.
A bale gripper attachment is designed for use with your skid steer. Carefully review the instructions to be sure you attach the hydraulic lines and safety system properly. Failure to do so could affect the performance or safety of your gripper. This attachment is engineered to work with all makes and models of skid steer, but always check your machine before attempting to install a new piece of equipment.
Handle Hay the Right Way
Don't spend days hauling hay or attempting to lift bales with the wrong tools. Keep your farm operation safe and efficient with Titan Attachments backhoe, hay spear and bale gripper tools. Expand your skid steer and tractor potential with these dynamic attachments available online at a great price.