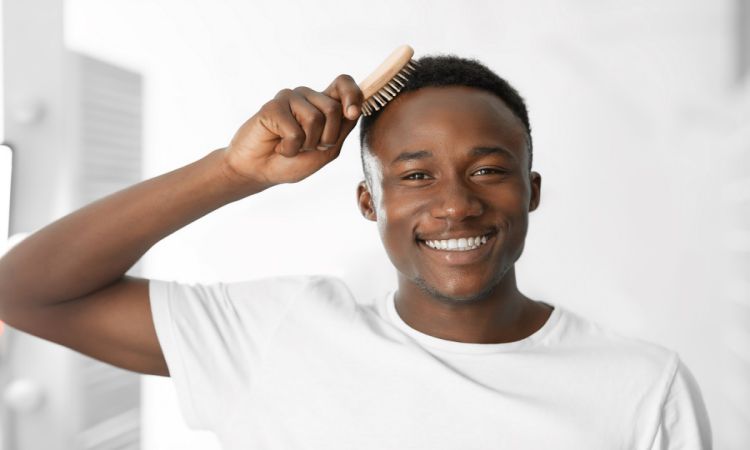 Black men's hair is incredibly diverse, with a range of thicknesses, shapes, and textures. This uniqueness requires them to adopt different approaches to hair care, styling, and maintenance for hair and scalp health.
There are several different evergreen hairstyles for black men, but maintaining a proper hair care routine is an absolute must. It will ensure you have healthy locks for a long time and enable you to carry off a variety of fascinating styles.
To properly care for your hair and ensure its good health, you can start by following the tips below.
Wash it Less Frequently
Extensive research has been done on African-American hair care practices and routines. The findings have been used to determine methods that are best suited for this hair type. 
For instance, if you wash your hair too much, it could strip away the natural sebum your scalp makes to keep it moist. The result will be a dry scalp and brittle hair. Therefore, it is recommended to wash your hair once a week, especially if it is tightly coiled. 
Dermatologists may recommend washing your hair twice a week if you have dandruff or seborrheic dermatitis. Take care to use mild shampoos that will not make your hair dry and rough.
Moisturize every day
Hair has the unwarranted tendency to dry out through the day, especially when exposed to the harsh sun, heat conditioning, or chemicals from hair care products. That's why it is vital to indulge in deep conditioning every day to hydrate the scalp and keep it soft. You can gently massage mild oils into the scalp, taking care to avoid the hair as it will just make it greasy. You can also use conditioning creams that suit your scalp and hair type. The key is to avoid overdoing it and making your head entirely greasy.
Pick a Good Hairstyle
It is advisable to choose a haircut that is easy to maintain, especially if you cannot make regular trips to the hairdresser. So, look through a variety of fascinating different evergreen hairstyles for black men and find one you are most confident about. 
Popular options include braids, diverse fade cuts, buzz cuts, dreads, waves, and the flat top. You can also opt to have a natural Afro or get a clean shave. Like the other hairstyles mentioned above, both are incredibly trendy and require different types of care routines.
Reduce Friction During Sleep
Most black men do not realize that movement during sleep can cause hair to rub against the pillow, leading to breakage and fall. Also, some fabrics tend to absorb all the moisture from the hair and scalp, leaving them dry. 
Therefore, use silk, satin, or other soft material pillowcases to avoid damage from friction. You should also avoid wearing tight bands on your hair during sleep as they lead to breakage. If you need to keep your hair tied, soft cloth headbands or wraps are better options.
Buy top-quality products
Vitamin C-rich hair products are perfect for black men's hair as the routine revolves around moisturizing and deep-conditioning the scalp and hair. They can also help style the hair, maintain different haircuts, and boost hair growth. You can also opt for homemade remedies or specially formulated products suitable for African hair. The idea is to use high-quality, 
chemical-free products that are not harsh on the hair and scalp.