Picking the appropriate thermostat ensures your heating system is working at its optimal level to deliver comfort and efficiency. Models that represent the best thermostats for steam heat system track energy usage, lower your outgoings, and can be controlled via your smartphone. These reliable thermostats score high on functionality.
Modern thermostats aid in HVAC units operating faultlessly. They strike a balance between indoor and outdoor temperature settings to ensure your space is warm and cozy. While choosing a thermostat for your steam heat system, carefully weigh all the pros and cons. Read on to find out what factors to look for when buying a thermostat.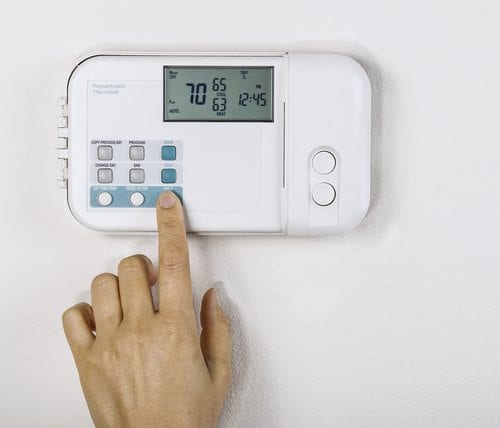 Buying Considerations
The key factors to consider when identifying the best thermostats to purchase for steam heat systemsinclude:
Ease of Installation
Expensive and advanced thermostat models usually demand specialized connections and wiring at the time of installation. The standard units are comparatively easier to install and equipped with an instruction manual to navigate the process.
Do not underestimate the importance of installing the gadget at a feasible location to facilitate the efficient working of your HVAC unit. Avoid the following inappropriate locations to install your thermostat:
Below or above a supply vent
Near windows and doors
In an exterior wall
Within long and narrow hallways
Wherever the moisture content is high, like within your kitchen and bathroom
Close to lamps and television sets that emit heat
Your Preferred System of Operation
A programmable thermostat saves energy when you are not around without sacrificing your comfort. It maintains a consistent temperature and customizes the conditions within a defined indoor space.
Programmable thermostats can support a unique schedule for every day of the week as well as defined schedules over weekdays and weekends.
If you choose the manual version, remotely controlling the temperature is not possible. Your space will continue to heat at a set temperature even in your absence unless you manually deactivate the thermostat beforehand.
Assess Compatibility 
The thermostat you choose should be compatible with the steam heat system you install in terms of voltage and type. You need a thermostat that can handle the power your heating equipment demands while also supporting the stages present in your steam heat system.
Staging increases unit efficiency by matching its output with the needs of your space. Sourcing a thermostat rated for a power supply similar to what your heating device operates on ensures compatibility. Narrow your options of thermostats on essential criteria like user interface, available features, price, and programmability.
The user interface could include buttons, switches, soft keys, or touch screens. These interfaces are designed so you can control your system and monitor energy usage.
You know your thermostat is faulty when it fails to create a comfortable setting, is less responsive, and frequently alters the temperature. A loose wire connection, circuit panel issue, or batteries that have lived their life could be responsible for your faulty thermostat.
Approach a specialist in this domain who can expertly direct you to a functional and efficient thermostat that supports your steam heat device.