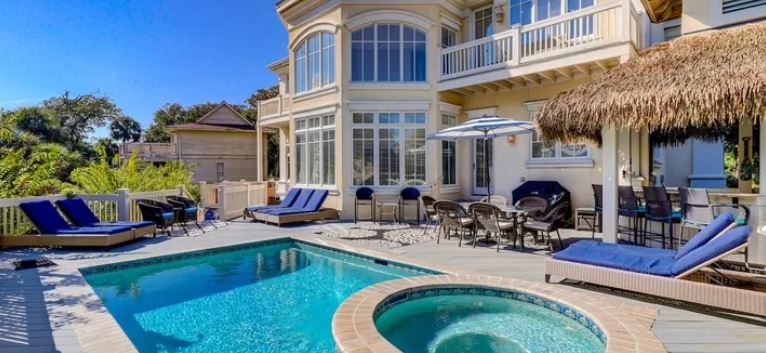 If you are looking for a vacation destination where you can enjoy relaxing in the sun and surfing on some of the best beaches in the United States, why not head over to Hilton Head in South Carolina? The island has access to twelve miles of pristine beaches and everything that makes it the ultimate holiday retreat. Miles of the luxurious beachfront property allows Hilton Head to offer holidaymakers more than most other South Carolina resort towns.
Named after the 17th-century sea captain, William Hilton, the island is situated in Beaufort County with a population that is larger than all the other resort towns in South Carolina combined, including Seabrook Island, Surfside Beach, and Myrtle Beach. During the summer months, the population undergoes a significant population increase to approximately 160,000. This sought-after island getaway is easy to reach by air from New York, Ohio, or Toronto and only a short 4-hour drive from Atlanta and Charlotte.
Find Rentals Inc., in partnership with a number of vacation rental companies and property managers in Hilton Head provides an amazing selection of temporary rentals in the area for tourists to choose from. In fact, many of the exclusive, luxurious rentals can only be found on the FindRentals.com website. It's easy to find a beautiful beachfront property to rent for your island vacation, the hard part comes when planning your itinerary as there are so many top activities to include. With so much to see and do, it may seem impossible to fit everything in on one trip. Find Rentals can help you plan ahead so that you will be relaxed and well-prepared in order to enjoy an amazing vacation that will be hard to forget.
Things to do in Hilton Head
Find Rentals has prepared a list of the best sites and top activities on the island to help you plan your vacation time. If you make use of our recommended plan for a full itinerary, you may be able to fit in everything that the island offers, depending on the length of your vacation.
•
Guided Tours
A guided tour is an excellent way to ensure that you see all the top sites and don't miss out on anything important. Most guided tours include famous sites like Daufuskie Island and Stoney-Baynard Plantation and there are dozens of tour companies that offer excellent tours of the island. As every tour is different, it is important to find out what each company offers before choosing the right one for you. Most companies specialize in specific locations and activities. For example, some tours will focus on spending more time on the land instead of the water while others include the best locations to view whales, dolphins, and sea turtles. Find Rentals tours, for example, focuses more on historical landmarks on the island. You can, of course, go on multiple tours to include everything you are interested in.
•
Beach Parks
As you will probably be spending the bulk of your time at the beach, there are several beach park areas that offer an array of spectacular waterfront scenery. Planning ahead will allow you to include some of these areas to relax in the sun while enjoying the beautiful scenery.
Coligny Beach Park
This is the most popular beach park on the island and visitors from across the country come here to watch the sunset on this beautiful landscape. There are plenty of gazebos available that offer privacy and shade from the sun. Coligny Beach Park offers all the popular amenities that tourists need in order to relax in comfort as well as many nearby attractions such as shops and restaurants.
Driesden Beach Park
If you like to get away from the crowds, Driesden Beach is large enough that even if all the tourists on the island came there, you would still not feel crowded. Even though it is usually less crowded, all the necessary amenities like benches, gazebos, and restrooms are still available.
•
Gold Course on Hilton Head
Golf enthusiasts may already be familiar with the legendary golf courses on Hilton Head. Designed by some of the biggest names in golf such as Arnold Palmer and Jack Nicklaus, both professional and amateur golfers come from all over the country to play here at any time of the year. The expert design combined with beautiful scenery creates some of the most unforgettable holes in the country. The surrounding landscape includes massive oak trees, beaches, and towering lighthouses. Even if you are not visiting the island specifically to play golf, we recommend bringing along your clubs to enjoy an unforgettable round of golf.
•
Adventure-Packed Activities
Even though playing golf on a world-renowned golf course and relaxing on the beach are two outstanding holiday activities to enjoy, there are more adrenaline-packed adventures available on Hilton Head Island. Most of these activities can be found just a short distance from most of the beachfront properties offered for rent by Find Rentals.
Some of the adventures you may want to try include kayaking, zip-lining, and aerial adventure obstacle courses. Guaranteed to get your heart pumping faster and your adrenaline flowing, kayaking is a great way to explore more of the island by rowing along with one of the major rivers in the area. 
•
Experience Everything on Offer at Hilton Head Island
No matter how long or short your vacation, make sure you enjoy some of the amazing activities offered on the island.  From a relaxing evening watching the sunset on Coligny Beach to an obstacle course with treetop rope-climbing and everything in between, Hilton Head has plenty to offer. Enjoy a round of golf, visit a historical site, or kayak on the river, there is a lot to do on the island.
Visit the FindRentals.com website to choose your vacation rental on Hilton Head Island and start planning your holiday itinerary today.