Whirligigs are colorful garden ornaments which you might have seen every now and then. Whirligigs in gardens are pretty common from cities to villages and are used for multiple purposes. But, wait! Are you aware of what a whirligig is? It is a spinning/moving object which comes in beautiful and attractive colors.
It is called by different names like whirly, whirlybird, whirligig, etc. These beautiful whirligigs in your garden can set up a pretty cheerful vibe which goes well with the atmosphere of the garden. Wish to know more about it? Head over to the information below to know more about them.
What is a Whirligig?
A whirligig is similar to a spinning toy like a pinwheel. It spins by wind or by an inbuilt motor. It can be spun manually and by friction too. Or in other words it can be said that it can be divided into four categories depending upon how it is operated. Technically, a whirligig is based on the conversion of energies.
The wind energy gets captured and changes into rotational and kinetic energy which in turn moves the piece. But to capture the wind energy in the first place, there needs to be a pinwheel or a surface similar to that of blades. That is how it works. These have been used for ages and are pretty much popular.
Whether it be Mexico or China, they can be found everywhere. Urban or rural, cities or countryside, they can be spotted easily.
To read more, check https://en.wikipedia.org/wiki/Whirligig
 Special Uses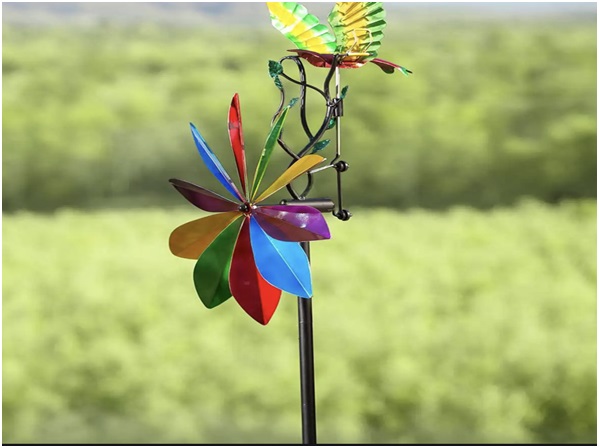 Well, well, well if you are thinking that whirligigs are used only as garden ornaments, make sure you get it clear that it is not the case. Whirligigs have many other uses too apart from acting as garden decor. These include acting as devices used to drive away moles, rodents, garden pests etc.
The vibrations & sounds emitted by these devices help in the prevention of burrowing by rodents which may spoil the gardening. This is because the rodents cannot withstand the vibrations. The whirligigs are used in fields too which when make sounds are used to scare away birds hence avoiding the threat to crops as well.
Also, a pretty obvious thing is that they are used as hand toys too used by kids for the sake of amusement. Kids enjoy playing with it a lot.
DIY Whirligigs: Design your own Wonder
In case you are planning to buy a whirligig, it's quite easily available across various online shopping sites, thrift shops, or shops selling special decor based things or antique items. If you wish to make one on your own, that is possible too. There are multiple tutorials available on youtube from where you can make this cutesy thing for your garden and add on to the charm of the place wherever you wish to put it, especially the gardens.
Also, you don't need to specially buy anything from the market to make one. The majority of material required might be lying in your home here and there. Hence you do not need to spend some extra bucks for making this art piece at home. Sounds cool, isn't it?
Try making a whirligig at home and it might turn out to be a great indulging activity for the entire family as it might interest kids as well as adults. A perfect option to spend a holiday at home with family, right? The kids can learn to unleash their creativity skills via this fun-filled activity. Kids love playing with them as hand toys since it amuses them.
Moreover, adults can spend some time with their kids while doing this making up for a quality time together. Ideas can come from anywhere so what are you waiting for? Decide a theme for your next holiday and enjoy this cute task of making a whirligig.
There are multiple toys available in the market for kids and are a big hit among them. And you shouldn't be surprised to know that there are books available too which tell you how to make whirligigs at home with detailed instructions listed in them. Some names which are into this include author Anders S. Lunde, Dover Publications, and many more.
Not only this, there are several whirligigs related to different themes which may be related to folk art or history. When it comes to prices, folksy and antique whirligigs are priced more as compared to other themed whirligigs because of the recognition they have got in the market and they also occupy a major portion of it.
If you explore the market, you will find multiple ideas in the whirligigs like a whirligig consisting of a farmer pulling a bull, a wooden cardinal and many other art pieces. The variation of colours, the amazing colour palettes from dark to pastel shades, the art pieces curated by hands and adorned by wonderful themes look quite captivating and play a major role in setting up the vibe of the garden.
The whirligig could be anything you imagine, it could be a flower-shaped, a boy riding a cycle, children playing something, or anything else on which you can storm your brain. Vintage themed woodwork whirligigs are available in the market too with handcrafted features. They are perfect ornaments for your garden if you wish to give some sort of vintage feel to your garden.
The setup vibe gives major vintage feels. You should also be aware of the fact that many whirligigs are also a part of the museums. This in itself is a realization of how major a role these can play for your home, garden, or yard.
This is all about the whirligigs so far. Now, just hop off your couch and make sure you get a whirligig for your garden/yard as soon as possible and start enjoying it. After all, it's a toy as well as a piece of art that improves overall aesthetics of your areas.
HAPPY PLAYING!!!!