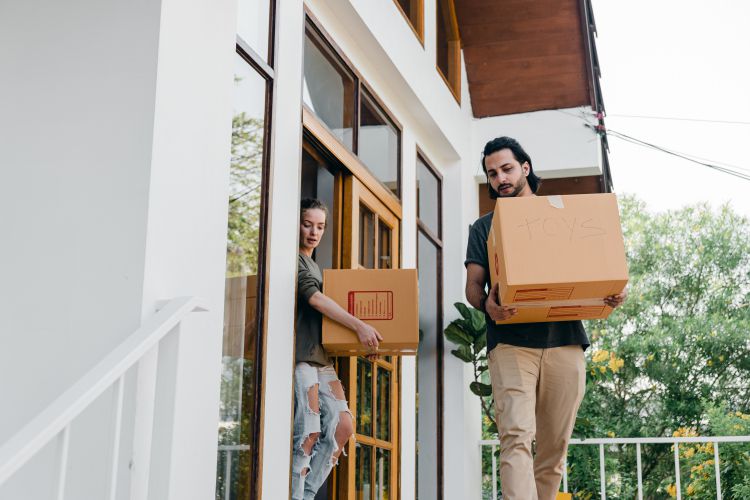 If you're planning to move, you're always hunting for ways to make your life easier, and if there's one thing that you have learned, planning a move is not an easy task.
Moving can be extremely stressful and overpowering, whether relocating across the nation or to a neighboring city. Packing boxes, organizing, finding trustworthy movers, and maybe even cleaning your current home in preparation to sell it, there seems to be an endless amount of details to think about.
Fortunately, you can make the process less daunting with the right tips and tools in your arsenal. So before you start packing up your boxes, be sure to read on for our best advice on how to plan a move. You'll be glad you did!
How to Prepare and Plan Your Move
As soon as you decide that you are moving, you start getting butterflies in your stomach. Packing up everything you own, leaving your comfort zone, and starting fresh somewhere new is a daunting task – but it's always great to explore new beginnings!
Start by making a list of all the tasks that need to be completed before moving. It may include packing, cleaning, canceling utilities, and changing your address. Once you have a list of everything that needs to be done, start assigning deadlines to each task.
Your list will be affected by the location you're moving to. If you're moving to the next block, you may not have to cancel your utilities or change your address.
If you're moving across the country, maybe to a suburban and exciting city like Bentonville, you may have to look up things like how to get a parking permit, where Bentonville storage units are, or where to find the best schools in the area.
Make a Budget and Stick to It:
Moving can be a costly endeavor, so it is crucial to make a budget and stick to it as much as possible. View the prices of everything from packing tape, bubble wrap, and boxes to moving company costs.
You must also want to check with your estate agent about Key money, agent's fees, and other associated moving costs. The last thing you want is to be surprised by a bill you weren't expecting!
Another important (and ignored) factor is hotel bills. What if you have to spend a night or two in a hotel because your new home isn't ready yet? You should account for this in your budget as well.
Hire Movers or Move Yourself:
When it comes to relocating all of your belongings, there are various possibilities. For example, you may have the option to move everything yourself with a rental truck, or you can hire professional movers (sounds fancy, right?)
If you decide to go the do-it-yourself route, give yourself enough time to get the job done. Packing and loading a truck is harder than it looks and takes much longer than most people anticipate.
If you're working with a professional moving company, book your date as soon as possible. Many companies get booked up weeks or even months in advance, so the sooner you can confirm your dates, the better.
Get Organized:
Packing can be one of the most time-consuming and frustrating parts of moving. It's one of those tasks that we usually put off until it has to be done. Check everything before you pack it away, and create a labeling system for all of your boxes.
It will save you a lot of time and hassle when unpacking. You can use different colored sharpies or labels to track what goes where. If you don't recall where to find the emergency torch or candles when needed, it will be a pain to go through all the boxes!
Create a Timeline and Schedule:
There are a lot of variables to handle when planning to move. However, creating a schedule and timeline is essential to staying on track, keeping your sanity, and making sure for will be a lot easier to remember when it's written down!
As you can see, a lot goes into planning a move; if you don't have it all listed, you'll forget about it.
It's also essential to give yourself plenty of time to plan. Trying to do everything last minute will only result in stress and frustration. Instead, start by creating a timeline of all the tasks you need to complete before moving day. It will keep your hands free and give you some peace of mind!
Ask Your Friends for Help:
Believe it or not, you can manage without movers, provided you have helpful friends and family. You may require their help to move things from your old property to your new home. The catch is to ensure your friends are committed to your cause if you intend on relying heavily on them for assistance with your move (buy them pizza!).
Be smart and plan your move for a weekend to ensure all your helping hands are available. You don't want to end up under a pile of boxes because your friends bailed on you for work!
When your God-sent help arrives, delegate tasks and assign each friend a different set of boxes or a specific room to focus on.
You can later thank each one individually by sending them some surprise gifts or throwing everyone a party. How about hosting a cookout at your new home the following weekend? They deserve it.
Keep Pets Out of the Way:
When you are a pet parent, it's best to keep your furry friends away from all the commotion on moving day. Pets can be easily startled and may try to bolt out the door, and you will be chasing them down the street!
The best thing to do is find a pet sitter for the day or take them to a friend's house. If that's not an option, confine your pets to a quiet room with their favorite toys and treats to keep them occupied.
Don't forget to pack their food, bowls, and bedding in a separate box to easily access it when you arrive at your new home.
Visit Your New Community:
When you plan to move to a new town or city, it's always good to visit your new community before moving. It will give you a chance to get a feel for the area, check out local shops and businesses, and see if it's truly the right fit for you.
Once you've decided to move, inform your family and friends of your new address and contact information. This way, they can stay in touch, and you can keep them updated on your new life.
Conclusion
You're probably excited, sleepless, and tired (of course!), but don't forget to enjoy the process. Although it may be stressful at times, remember that you're embarking on a new adventure. So soak up every moment, good and bad, and relish that you're finally moving into your dream home!
Just keep in mind that you can avoid many common headaches and problems associated with moving by planning and organizing yourself.
We hope our tips have helped you get started on making your move less stressful.