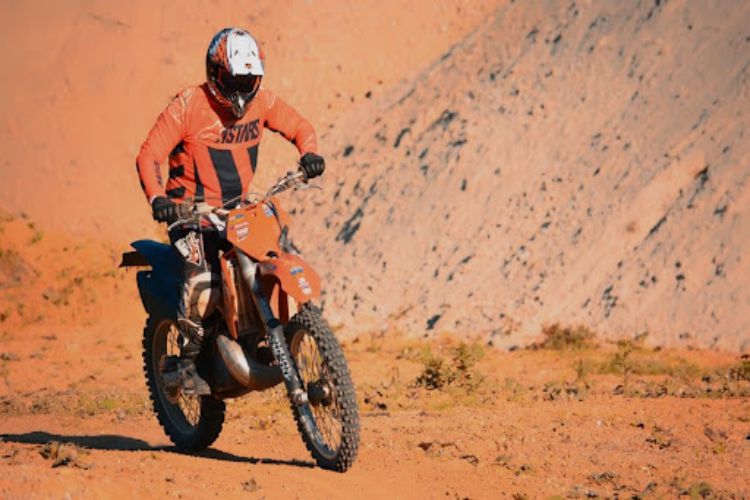 Spring is right around the corner. When it comes to warm-weather activities, there's nothing better than hitting the trail on a dirt bike.
When it comes to learning how to ride a dirt bike for the first time, there are a few things you need to understand to ensure a fun and safe experience. Fortunately, this article can help.
We will take a look at dirt biking for beginners, including buying a dirt bike and the accessories you'll need. 
Choosing the Right Dirt Bike
When it comes to picking the perfect dirt bike for your riding plans, it's important to understand that there are different types of dirt bikes and various brands that are designed for specific uses.
For example, you might be planning to go off-road through extremely primitive terrain or merely take it on a groomed dirt track. Thus you'll need to consider size, weight, the type of tire that works best for various riding styles, and the amount of power you want.
Size is a major factor because you want a bike that fits your body. The best strategy is to talk to an expert at your local dirt bike shop to find the right size for your body type.
Riding Gear
Now let's talk about riding gear you'll need for dirt biking for beginners. The most important gear includes a helmet, gloves, and riding boots.
Safety should always be your top priority, so invest in quality gear that will provide as much protection as possible in any riding environment.
It's also smart to wear eye protection that will shield you from dust, dirt, and other types of debris while riding.
Here's a great resource for buying OEM parts and other dirt bike accessories.
Starting the Bike
Many modern dirt bikes feature a starter button that makes starting the engine super easy. But this isn't the case with every bike. Thus you might have to learn how to kick-start it. 
The key is to practice putting the transmission in neutral and pulling in the clutch before pressing the starter button.  This can be a bit unsettling at first, but you should be able to get the hang of it in no time.
Shifting
Next, you'll need to learn to shift gears. Again, this takes practice.
The key is to familiarize yourself with the toe shifter on your bike so that you understand how to click through the gears quickly and easily in any type of condition. 
Braking
Learning to stop can be challenging, and yet it's important to brake quickly and smoothly while moving at any speed. This is the best way to safely navigate off-road terrain and reduce the risk of a major wipeout on the trail.
A Beginner's Guide On How to Ride a Dirt Bike
It's no secret that people love to seek adventure. Fortunately, these tips on how to ride a dirt bike will help make exploring the great outdoors even more fun and exciting. 
Please continue exploring this blog to find more articles filled with content you can apply to your daily life.