Commonly, A circular saw used with a table. The craft or building worker works with it placing on the table. But as you are want to know how to use a circular saw without a table; we think our practical experience will help you. But for this, you have to know some technique that using a circular saw without a table will require. Do you want to know this technique? Then this article is for you.
I also used the circular saw with the table. In recent time I used it without table several times as table was not available and got an excellent experience. I am just going to share my own experience.
Here you will get a proper guideline on Using a Circular Saw without a Table. To use a circular saw efficiently and accurately, you must have to follow this guideline. Before starting the guideline you can read Roto Razor mini circular saw and alternative if you need a mini circular saw.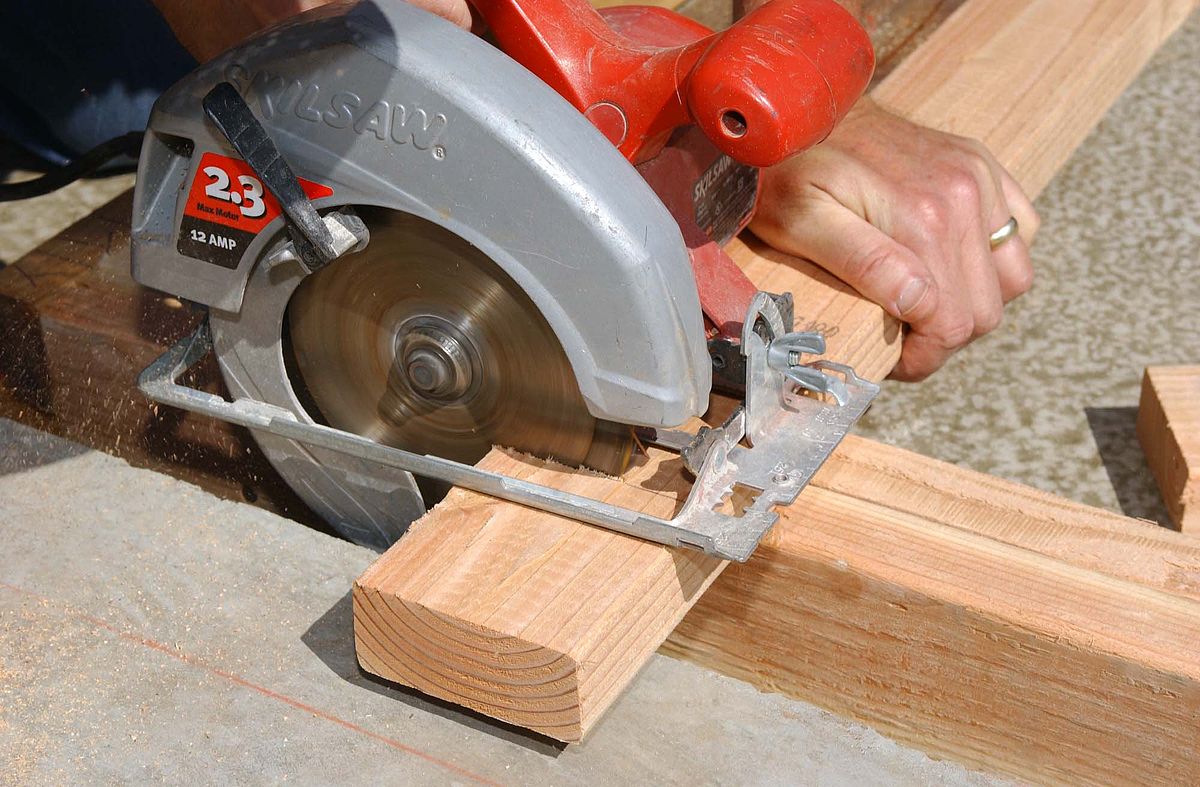 Step by Step Guideline how to use Circular Saw without a Table
In this guideline, you have to follow some necessary steps. The steps are as follows:
Know the types and sizes of the circular saws
A circular saw comes with different types as well as sizes. And different types and sizes are for different purposes.
A circular saw usually comes with following types and sizes:
6 1⁄2 inches saws: They are suitable for ripping and cutting plywood, lumber and other composite material.
5 inches trim saws: These saws have a fine-teeth blade and rechargeable batteries.
8 to 10 inches saws: They are suitable for cutting larger lumbers or timber of up to 4 inches thicker.
7 1⁄4 inches saws: These specially designed for construction purposes like industry cutting, framing, and ripping off up to 2 1⁄4 inches.
Know the types-sizes of its Blades
The blade of a circular saw also comes with different sizes and types. Different types of blades are too different kinds of cutting tasks. The following types of blades of a circular saw are available on the market now:
Plain high-speed steel blades,
Abrasive blades,
Tungsten carbide tipped blades,
Diamond-rim blades,
Dado blades,
Tempered alloy blades,
Paneling blades
Mark the lumber or wood that you are going to cut
The proper measurement is the essential steps of cutting with a circular saw. For measuring you may use a ruler, a measuring tape, or a square. Mark your desired path where you to move your blade to get perfect cutting.
Keep the saw at the right depth and angle
As a next step, you have to place your circular saw at the proper depth as well angel. As, if you want to cut thick lumber of 40mm, you have to place the circular saw blade at about 45mm or 50mm.
Ensure saw guard smooth operation
The Circular saw can spring back when you lift it from work. A circular saw can kick opposite direction when the blade blocked. For these reasons, you have to ensure smooth handling of your saw guard.
Check the mark before facing the blade
Before starting your final with the saw, check whether the pencil mark is at the right side of your saw blade.
Start cutting with your circular saw machine
Once your placing to the pencil mark is complete, start the saw machine. Push the material to the blade when it is cutting. Decrease the force when the blade feels any obstacle.
Do you know Pin Nailer is also an essential tool for home improvement?  Read the best 23 gauge pin nailer reviews to find the suitable one for your projects.
Frequently Asked Question
Q1: Is there any risk of using a circular saw without a table.
A1: No. But to avoid risk, you have to place it at proper depth and angel.
Q2: Is it essential to know the Circular Saw Blades' types and sizes?
A2: Yes. Because different blades are good for different purposes.
Q3: Why you should remove your saw slowly?
A3: You should do it as if you do hurry in removing the saw, it may cause a sudden accident.
Final Verdict
That's all I experienced when I used a circular saw without placing it on a table. I have shared it with you so that you can also have this excellent experience.
I hope you have now a clear concept of using the circular saw without having any table. Keep in mind that the importance of using the circular saw in a right way is essential not for only perfect work but for your safety also. The proper operation will prevent the sudden accident. So, never forget to apply the right techniques when you are going to use a circular saw without a table.