If your home feels cozy but seems to be missing something, it's in need of some interior decorating. Incorporating interior design trends into your decorating is one of the fastest and most efficient ways to modernize your space and make it feel more welcoming.
But with trends constantly changing, how are you expected to keep up and design a home that won't look dated in a few years?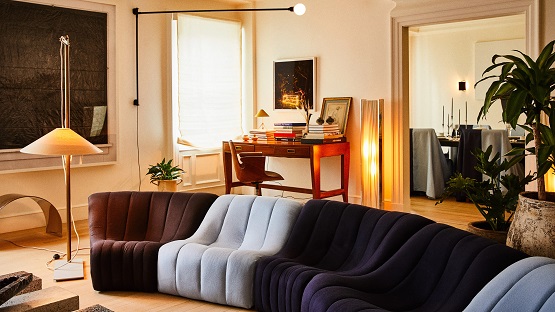 We're here to give you a few tips, so you can learn about the current interior design trend and try it for yourself!
The Current Interior Design Trend We Love 
Interior design trends are often influenced by world events that alter what people want from their homes.
COVID-19 had a massive impact on the interior design industry, affecting the design world and what homeowners want. The focus shifted to homes that were easy to keep clean and spaces that supported our health and wellbeing. People were spending more time at home, and they wanted their homes to be cozy.
Trends revolved around bringing the "outside" in, using natural colors such as brown, green, and blue, or incorporating more natural wood into designs. It was about creating serenity and calm in the home during a time when uncertainty and anxiety were high.
We're still seeing many of those trends carry over. Our favorite interior design trend for 2022 is the focus on the natural look and sustainable practices. It's all about lasting styles and furniture or decor you won't have to throw away.
The time for fast-fashion and throw-it-away consumerism is gone.
How to Design an Interior That Lasts
Choosing pieces meant to last takes a great deal of thought, especially when it comes to furniture. You'll need to consider materials that can withstand repeated use, the size of the furniture, the color, and so on.
Some of the hot colors for 2022 include primary blue, bright orange, Kelly green, and sunny yellow.
Trendy colors change every year, so if you choose to buy a mustard yellow couch, you need to make sure you'll still love it five years down the road. If you want to incorporate fashionable trends, but you're worried about how you'll feel a few years from now, consider smaller pops of color.
Add some yellow throw cushions to your couch. You can always replace the cover if you get tired of the color.
Another tip for including current trends into interior design is to choose quality furniture designed to last. "Fast furniture" isn't sustainable, and it contributes to overflowing landfills. These pieces are only designed to last for a few years until people get tired of the look or move on.
Instead, invest in quality furniture that you can pass on to future generations. Choose timeless colors and designs that blend well with your decor, season after season.
Make your space cozy and inviting, so you'll want to spend time there. For instance, Harmony House fur blankets really spruce up the couch.
Stay Ahead of the Design Trend Curve
We hope these tips helped you learn more about the current interior design trend and how to use it at home. Of course, the world of design is always changing, and you'll have to keep an eye on the industry for all the latest.
To stay ahead of the design trend curve, make sure you keep checking out our blogs. We cover the latest news, home and design tips, and much more.