Has time inside made you reconsider your kitchen's design? Perhaps the cabinets are looking worse-for-wear, or the appliances are mismatched. Is it worth it?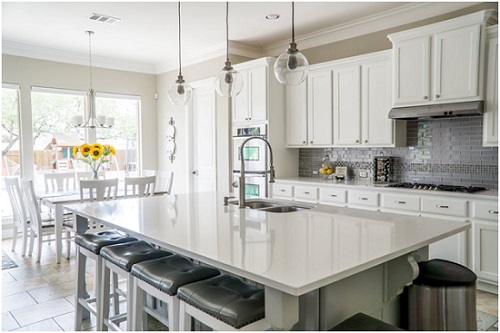 Considering the national average return on investment homeowners see after they undergo even small kitchen renovations is around 81%. But how long does a kitchen remodel take? This guide explains the timeline you can expect.
Building a Kitchen Remodel Timeline 
A kitchen remodeling project can involve anything from refacing cabinets to ripping up the entire floor. Here's what to expect from individual fixes in your kitchen.
Countertops
Granite and marble have dominated the market as the most popular choices for kitchen countertops. Once you've decided on the color/design you want, professional installers will come to your home and measure everything. It will take about two weeks to cut the stone to the proper size.
Natural stone is heavy and requires multiple hands for the installation. This part of the process may take several hours or a whole day. If it is sealed after installation, you'll need to wait a few hours before using the counters.
Floors
The floors of older homes are likely to be covered by linoleum or vinyl sheets. While these flooring types are easy to clean and durable, it's not always the most attractive. Materials such as hardwood look beautiful but take a while to install.
Hardwood floor panels must acclimate to the room they will be installed in, or they could warp or buckle, ruining the boards. Acclimation times vary depending on the humidity in the room, the type of wood, and moisture content. Installation could take a few weeks from start to finish.
Cabinets
Kitchen cabinets are typically uniform in size, so you can likely have stock cabinets installed. On the other hand, custom cabinets could allow you to renovate your kitchen to add more storage space. Removal of your old cabinets takes one to two days.
Stock cabinets take one to two days to install, depending on the size of the kitchen. Custom cabinets might take a little longer. Resurfacing cabinets will take two to four days.
Appliances
Installing new kitchen appliances and fixtures should take that long, right? The important thing to consider is hooking up the new equipment.
Appliances that typically go underneath the countertop, like dishwashers, should be disconnected from power sources and carefully pulled out, so you don't scratch the floor. The tubes and valves used for pumping and draining water need to be disconnected.
If you're not confident in your appliance replacement skills, this kitchen appliance store will deliver your new fixture and install it for you. You can get complete matching sets and have your old one hauled away. The whole process takes a couple of hours.
So, How Long Does a Kitchen Remodel Take?
If you are looking to have done everything listed above at once, you're looking at several weeks to a couple of months to complete your kitchen remodel. If you're not sure you have the time to renovate a kitchen, start with small projects like buying new appliances.
Did we answer your question, "how long does a kitchen remodel take?" Let us know and check out the rest of our site for more informative articles like this one.