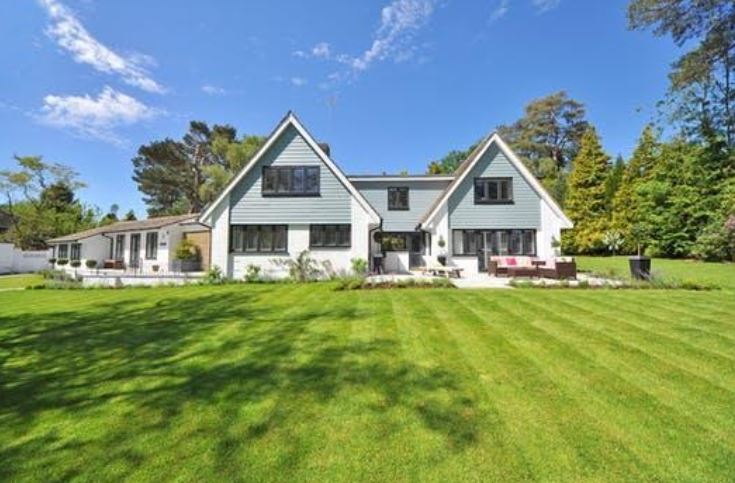 According to a recent survey, homeowners spend nearly 32 hours each month taking care of their lawn. This includes performing routine mowing, as well as additional cosmetic touches such as weed whacking. Keeping up the appearance of a lawn requires a lot of work.
Thankfully, there are plenty of lawn care and landscaping services available that can perform these activities, and so much more, to save homeowners time.
Keep reading to learn about landscaping vs lawn care, and which service is best for you!
Landscape vs Lawn Care
First, it is important to distinguish landscaping from lawn care.
Landscaping entails the creation of a lawn, or the alteration of an outdoor space/preexisting lawn into a more aesthetic landscape. Landscaping begins with the design, generally by a landscape planner or architect, of what the homeowner wants their lawn to look like. Then, landscapers will begin planting and/or mulching.
Planting introduces new plants into the landscape, and mulching protects the plant roots and encourages growth.
Lawn care, on the other hand, is about maintaining a preexisting lawn. This includes routine practices that will keep a lawn healthy, such as regular mowing, fertilizing, and weed whacking. However, a lawn care service will also perform preventative maintenance. 
Preventative maintenance might look like pest control as well as tree and shrub care.
When to Use Which Service
Homeowners must distinguish between these lawn services because it helps identify which service their lawn may need.
Homeowners that are content with the layout of their lawn but want to save time on routine lawn maintenance, should probably pursue lawn care. This will ensure continued lawn health and growth. Homeowners that don't have a lawn and want one, or want to improve on their current lawn or outdoor space, should utilize landscaping services.
Landscaping services are also helpful for homeowners that don't know a lot about lawn care. However, landscaping may not fix preexisting lawn health problems or concerns.
Other Considerations
When searching for lawn care or landscaping services, it is important to know that not all lawn companies will offer both services.
Additionally, it is helpful to understand how the services vary regarding price. Lawn care is often less expensive than landscaping, but for most homeowners, is a recurring expense. Landscaping, on the other hand, while more expensive, is usually a one-time expense when homeowners are looking for a change.
However, after landscaping a lawn, many homeowners often request lawn care services to keep up their newly renovated space.
The costs of services will also be dependent on the size of the lawn, as well as the number of services you are requesting. For example, mowing will cost less than the combined services of mowing, fertilizing, and weed whacking. Most lawn companies will offer free quotes to their customers based on their lawn size.
Bottom Line: There is a Difference
When comparing landscaping vs lawn care, the most important takeaway is that both services are beneficial. However, depending on the lawn and homeowner in question, one is a better service than the other.
For more information on home and garden needs, check out the rest of our site!