Are you part of the growing demand for acrylic and professional nails in the US? If so, you likely get your nails done in a salon and spend a lot of time there.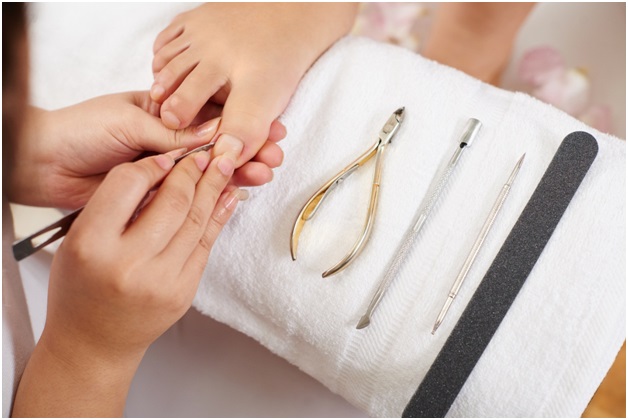 It is easy to see why you want to know the average manicure price so you do not overpay for this regular service!
But there are many factors involved in working out the price. How long does it take to get your nails done? What manicure or pedicure do you choose?
This guide breaks down the averages costs of the different nail procedures in the US.
Basic Manicures or Pedicures
Basic manicures and pedicures include nail shaping, buffing, treatment, and polish. These appointments at a nail salon are often less than an hour with a trained nail technician.
To get your nails done with this type of manicure, the average cost is around $20-25. For a pedicure, the average price is higher at $32-37. Pedicures are likely more expensive because they include foot baths and buffing away the hard skin on the feet with a pumice stone.
It is worth noting that if you spend a lot of money on basic manicures and want to cut down, it is easy to do this type of manicure at home.
All you need to do is invest in the following tools:
Nail file
Nail scrubber
Nail buffer
Cuticle tool
Cuticle oil
Hand cream
Base Coat nail polish
High-quality and fast drying nail polish
Top Coat nail polish
Many of these tools do not run out or need replacing once bought. You could do a full at-home manicure once a month and top up your nail polish once a week as needed.
Gel Polish Manicures
Gel polish first hit nail salons back in the 1980s, but it became popular in the mid-2000s with most places to get your nails done offering the service.
Gel polish is a long-lasting nail polish that technicians activate using UV light. There are at-home versions of the gel polish manicure, but you would need a steady hand.
The average cost of a simple gel manicure is around $30-35. Many nail technicians offer designs and patterns using gel polish. Depending on how elaborate the designs and embellishments are, the average price could be as high as $50.
Acrylic Manicures
Acrylic nails go back to the 1950s. They are faux nails that often provide an exaggerated nail length and they protect your natural nails. Nowadays, you can get your fingernails done with acrylic extensions that do not cover your whole nail.
The average price of a full set of acrylic nails is around $35-45. The price depends on the complexity of the designs, like gel polish manicures.
Acrylic fills are manicures that deal with the regrowth at the nail bed and cost around $30.
Get Your Nails Done for Less
If you want to get your nails done at a nail salon on a regular basis, these are the average prices for each common service. Now, you will be able to make an informed decision about which salons have the most affordable prices and who is overcharging.
Browse our fashion and beauty articles for more expert tips and advice!