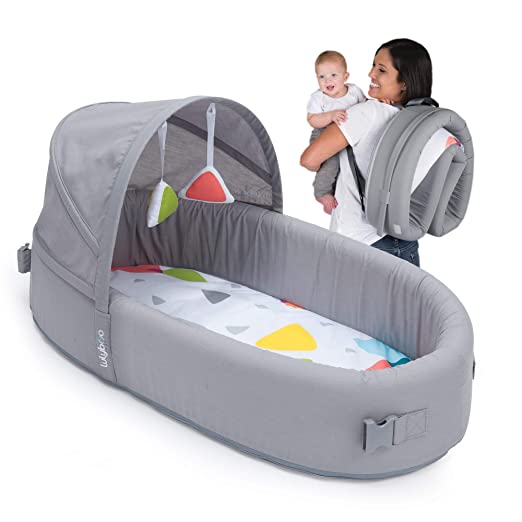 Traveling with a baby on board used to be difficult for parents in the olden days. With creative devices, parents can find the best product for their toddlers to keep them safe.
There are many things to take care of before you make your travel plans. Nothing can meddle with plans to make sure that your baby is comfortable and rested well during the journey. 
Bringing along a portable baby bed will do the trick. There are many options available.
1. Brica Fold N' Go Travel Bassinet
This product is ideal for infants when traveling. The fitted sheet makes for a safe sleeping environment. The firm mattress helps the baby sleep peacefully.
It is portable and can fit into a suitcase or other handy traveling bags. Otherwise, you can also use the handles on the product, making it easy to carry around. The innovative design allows you to fold it in seconds without hassle.
It is ideal for babies between 0 – 3 months and can hold a weight of around 2.4 lbs. If your baby is three months or weighs about15 lbs, it is best to look for other product options.
Buy here: Target
2. Sunveno Baby Moses Basket & Travel Bed
This baby moses basket features a recline design, making it ideal for babies prone to reflux. A safe place for your baby to sleep at home or when visiting friends. Pad is polyurethane foam with a wipe-clean, PEVA (non-PVC) vinyl cover.
Buy here: Bluebird Baby
3. Guava Lotus Travel Crib
You can set up the Guava Lotus Travel Crib in 15 seconds without hassle. It is a lightweight travel bed for infants. It comes with a portable backpack.
You can use it for your infant from birth to 3 years. It easily fits as a carry-on because it only weighs 13 lbs. It is handy for use at the airport to catch quick naps. 
The best feature of this product is the side door zip that you can open and close. So, your infant can sleep and play inside the crib's safety whenever and wherever they like.
Travelling takes a toll on anyone and especially when a toddler is on board. This product will surely take away the stress of carrying your baby around. It will also let you rest when they play. 
Buy here: Guava Family
4. Baby Bjorn Travel Crib
This product has identical weight measures and size as the Guava Lotus Travel Crib. It is also easy to organize and carry along. 
However, it comes with a fixed mattress cover, and you cannot use it as a carry-on. You can machine wash the crib fabric. 
It is advisable to buy it in advance to enable using it for a more extended period. You can let your toddler rest, play, sleep, and sit in it from 0 – 3 years. 
Buy here: BabyBjorn
5. Phil&Teds Traveller Crib
The Phil&Teds Traveller Crib is one of the best in terms of baby cot brands. At 6 lbs, it is very light in weight. In terms of size, it can roll up to the size of a yoga mat. It comes with a fitted sheet, and the mattress can self-inflate without any struggle.
This product is usable from birth to 3 years. The best part about this portable, lightweight toddler cot is that it comes at a reasonable price. 
Buy here: Philand Teds