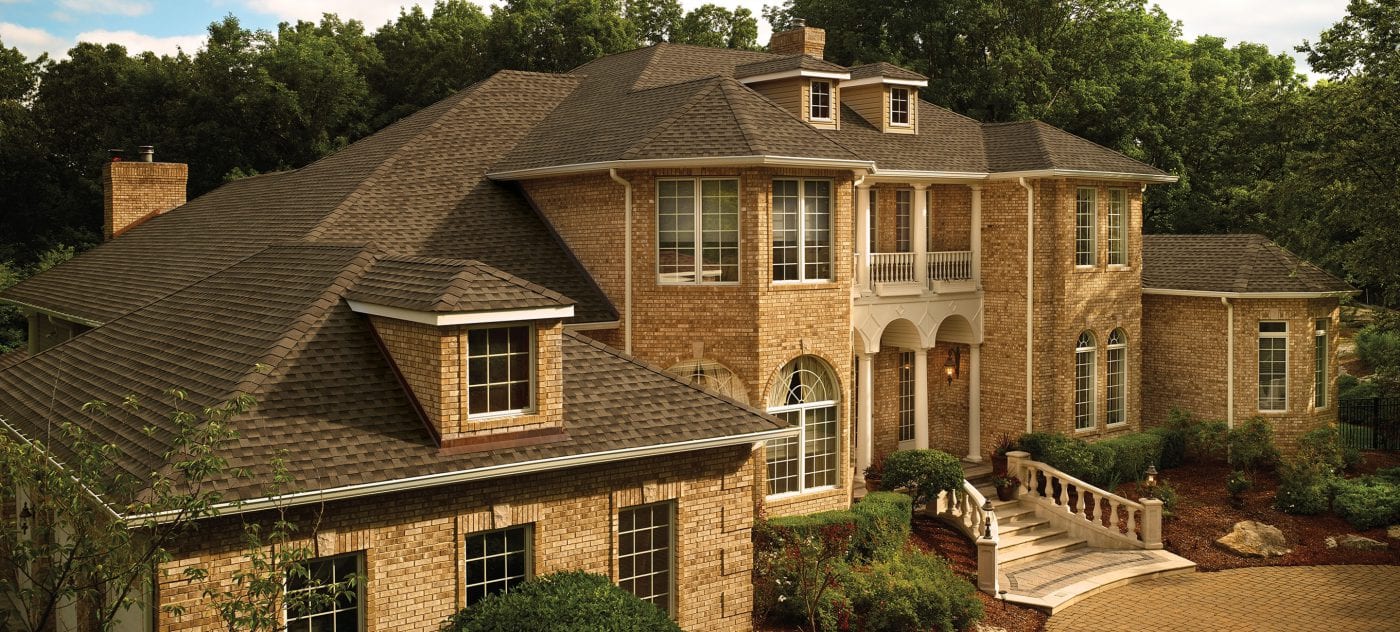 Shingles are the most popular choice for roofs throughout North America, because they are durable and cost-effective. That said, not all shingles are created to last. Some will fail you early on, and you don't want that. That is why you need to know the best brands—the ones approved by professional roofers. 
You shouldn't just think about the style of shingles you want, you need to know the ones that are guaranteed to hold up under pressure. 
The Top Roof Shingle Brands
Here are roofers' top choices for shingles:
GAF
One of the top names in designer shingles, GAF-Elk is a well-known brand throughout North America. The various styles of shingles all have dozens of color options for an affordable price. GAF Timberline shingles are noted for being 47% larger than other shingles on the market, giving your roof amazing coverage. If you purchase Lifetime shingles, you get a lifetime warranty as well. 
Top Choices for GAF:
Royal Sovereign (3-tab shingles)

Timberline Natural Shadow

Camelot Lifetime Designer shingles 
CertainTeed
One of the highest rated brands that all roofing contractors would recommend is CertainTeed. The manufacturer offers a wide range of shingles, including their top of the line Landmark series. The brand also guarantees craftsmanship and excellent quality, along with long limited warranties and additions like a 15-year warranty for algae resistance. 
Top Choices for CertainTeed: 
Grand Manor

Presidential Shake

Landmark and Landmark Premium

CertainTeed XT-25
Owens Corning
Usually compared to Atlas, Tamko, and GAF-Elk, shingles by Owens Corning come in shapes and sizes for all kinds of homes. The benefit of Owens Corning is that you get a balance of budget-friendly prices and gorgeous colors without sacrificing quality. 
Top Choices for Owens Corning: 
Berkshire Collection

Duration Collection

Oakridge Collection 
Honorable Mention: Tamko Heritage Vintage
Tamko is often held on the same level as Owens Corning, but only one of their shingles has received accolades on par with CertainTeed and GAF. That is the random-cut designer Heritage Vintage shingles by Tamko. They have a double-layer of fiberglass to make them resilient enough to withstand inclement weather. They also have weathering-grade asphalt and mineral granules on top. The shingles are rated for 30 years and haven extensive warranty. 
How Are These Shingles Tested?
Certain entities, such as Consumer Reports, have come together over the years to create tests to rate shingles based on their performance. The tests included the three popular kinds of shingles, such as 3-tab, multilayered architectural, and architectural/laminated. 
A machine is used to recreate impacts caused by severe weather against the strongest and weakest sections of shingles to see how well they fare. Most shingles, no matter their quality, are usually prone to cracks and tears around the edges, resulting in water damage. Thus, the tests make sure that the shingles are exposed to around 500 hours of UV rays, wind, rain, and blunt force to see how they hold up. 
The longer they last, the higher they are rated. As you can see, GAF, CertainTeed, and Owens Corning outlasted the competition. 
Takeaway
If you are shopping for a new roof, you need to know which shingles are the best. Roofers continue to favor brands like GAF, Owens Corning, and CertainTeed for roofs, so you should take a look at what the brands offer. You are bound to find something that meets your budget!