Jewelry is a gift any woman will love, and it is something a woman can give another woman, or even a male friend can give you one of these. It doesn't mean you are romantically involved. So do you need a gift for a female friend? You already know that one of the best gifts you can get is jewelry, but you don't want to make the wrong choice.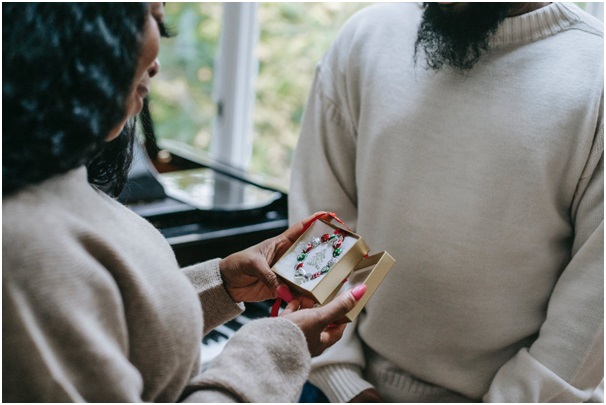 How do you choose the jewelry gift she will love?
Here we give you some information you need to know about giving a woman jewelry and things you should keep in mind before buying.
Is it A Wierd Gift?
No, buying a woman who is not romantically involved with you is not weird. It is a gift for a friend who loves jewelry. Gifting a female friend's jewelry is not strange. It tells her that you appreciate her. Jewelry is just an accessory. You aren't buying intimate wear. It is just a nice piece of jewelry. Here are some dos and don'ts of buying jewelry.
Designer jewelry
If your friend is savvy and likes artistic wear and accessories, consider getting a custom-made bracelet, pair of earrings, or pendants. Options can include gemstone pendants, rings, beaded bracelets, and even a designer locket.
 Something to Go with Her Personality and Style
The most important thing you want to consider when buying jewelry for a friend is their personality and their dressing style. Look for the type of jewelry that will complement the way she dresses and her personality rather than a piece of jewelry you think most women would like. A Reminder of Your Friendship. Nice Reminder of your friendship
If you aren't sure about her personality, think about buying a jewelry gift that will remind you of your friendship. Locket jewelry is this type of gift. Unlock it opens up, and you can place a picture or some other kind of reminder of an event or something you did together.
Choose a piece of jewelry that will remind her of a moment you shared, your relationship over time, and your friendship.
For example, you might get the fancy earrings that make her feel like her favorite celebrity or imitate a celebrity playing at a concert you went to together. But whatever choice you make, just make sure that the jewelry piece you choose is made of high-quality materials.
Consider Your Budget
Don't be tempted to buy the most expensive item you see or an item that the sales rep wants to sell. Think about your friend and whether the jewelry is within reason.
Buy jewelry with a sentimental purpose
Listen to her when she talks about what she likes
Consider your choice carefully.
 Things You Should Avoid
Don't buy jewelry because you want your friend to forgive you for something. Avoid spending more than what she could afford to buy for herself. You don't want to look like a big spender who brags about the money he makes. Avoid making a spur fo moment purchase.
Don't guess her ring size if you decide to get a ring.
Choose the Jewelry Material Carefully
Silver, Gold, or Platinum
Silver is the most affordable of precious metals. It won't discolor or rust, and it is soft but easy to bend too. So it may not be appropriate for daily use. However, the metal you choose also depends on what she likes. Some women prefer silver over gold.
Gold is more expensive than silver and long-lasting. You can find gold in white, yellow, and rose color. It comes in 10K and goes up to the more expensive 18K. Gold can be used for all types of jewelry and makes a perfect gift for anything from a small memento to a larger, more important piece.
Platinum is a tough precious metal and the most expensive of all of them. It has a silver-white color and is ideal for an heirloom piece.
Look for the Hallmarking
The hallmark is stamped on the metal and guarantees that it is a precious metal. The Hallmark ensures you are buying what you are being sold.
Avoid Junk
Avoid buying copper or nickel-filled jewelry from department stores. Some people have skin allergies, and you want your friend to cherish your gift. If you are not sure about the content of a jewelry piece, ask the jeweler or customer service rep.
Compare Costs
Before you buy a piece of jewelry, compare prices. Don't buy the first thing you see or like. It would be a good idea to compare prices with a few jewelers. You might find similar items with very contrasting prices.
Find The Right Seller
A good salesperson can help you choose the right type of jewelry. No matter what you are looking for, the salesperson is there to help you.