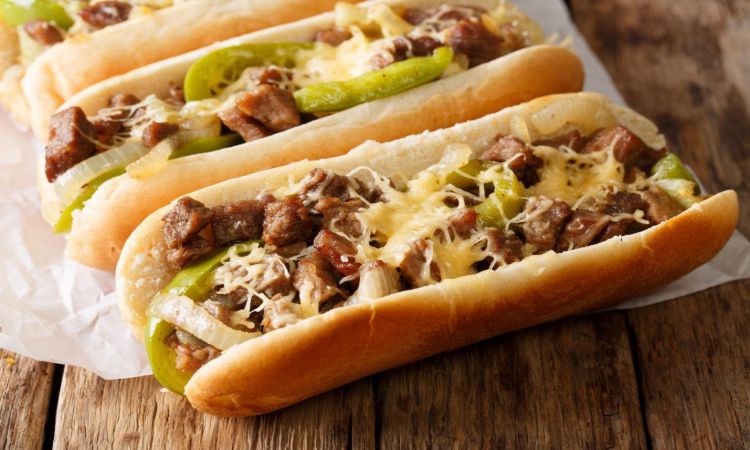 Philadelphia is a long way from LA. But to dine in some of the eateries mentioned below, you wouldn't know it.
Los Angeles is a cultural melting pot that has sprung forth some of the most exciting and delicious restaurants in the world. Here, it's possible to taste authentic cuisine from places as diverse as Mexico, Vietnam, Brazil, Ethiopia, Italy, and yes—even Philadelphia.
If you live in LA and you've ever experienced the unshakable urge to chow down on a delicious Philly cheesesteak, this article is for you. Read on for a comprehensive guide to some of the best cheesesteaks the great city of Los Angeles has to offer. You won't be disappointed.
1. Boo's Philly Cheesesteak and Hoagies
Consistently topping lists of best sandwich shops and cheesesteak specialists in LA, it's fair to say Boo's Philly is the real deal. Boo's offers up wholly traditional Philly cheesesteaks, as well as some fun variations on same.
On the menu, you'll also find chicken cheesesteaks, an array of hoagies, and of course the requisite sides. Best of all? You can order food online from either their Silverlake or Koreatown locations.
2. Fat Sal's Deli
Fat Sal's Deli has a promising-sounding name, and a promisingly packed menu to match. With several locations throughout the city, you should be able to get your Fat sal's fix no matter where you're located. With mozzarella sticks and onion rings being examples of some of the ingredients included in their cheesesteak sub, tradition is one thing that's not on the menu—but it's definitely a must-eat experience for LA cheesesteak enthusiasts.
3. The Great Western Steak and Hoagie Co
Over in Venice—even further away from Philadelphia than Los Angeles is—you'll find a prime example of an old-school, traditional, cheesesteak slinging shop. At The Great Western Steak & Hoagie Co, you'll find delicious, authentic Philly cheesesteaks—you may struggle to find standing space in which to eat it though. Also on the menu are hamburgers, hotdogs, and even a vegetarian cheesesteak for those so inclined.
4. Philadelphia Steak and Hoagie North Hollywood
If you can't decide whether you're in the mood for Philadelphian or Mexican cuisine, great news! At Philadelphia Steak and Hoagie in North Hollywood, you don't have to. The cheesesteaks are no-nonsense and authentic, and so are the tortas.
There's also a pleasing selection of sides, from jalapeño poppers to zucchini fries to spicy pepper pickles. The food here is no-frills yet delicious—just like a Philly cheesesteak should be.
The Best Cheesesteaks the West Coast Has to Offer
The above list represents some of the best cheesesteaks Los Angeles has to offer. A good mix of traditional, experimental, and… Mexican, means you'll never get bored with this selection.
LA is an amazing place to eat all kinds of food, and of course, Philly cheesesteaks are no exception. If you've liked this list don't forget to check out the rest of our content.