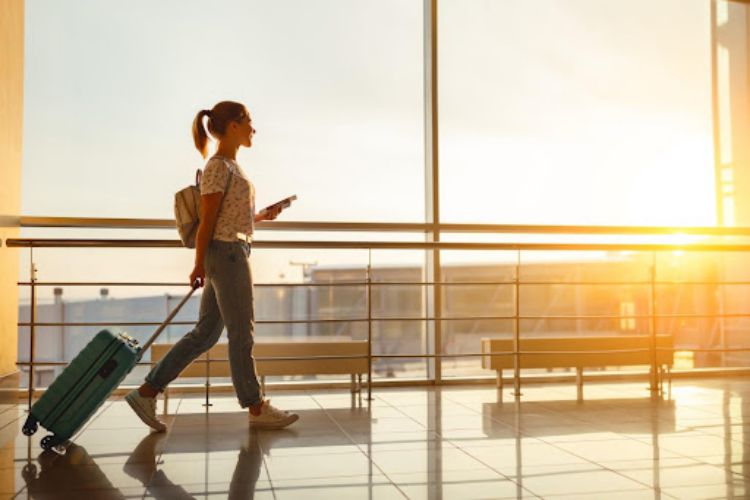 Travel is booming right now — there is an 11% increase in international travelers this year compared to pre-pandemic levels! As summer starts to arrive in full swing, with most of the pandemic memories behind us, people are flocking to their favorite travel destinations. 
If you're joining in the travel mania — and you should be — you'll need some inspiration for travel wear for women. 
Check out these 4 outfit ideas that are stylish, versatile, comfortable, and space-saving. 
Neutral Colored Jumpsuit 
The fantastic thing about a jumpsuit is that it's an entire outfit but takes up minimal space in your suitcase. It's also a flexible and comfy outfit that you can dress up for a night out or keep casual for daytime excursions. 
Stick to neutral tones so that you can fit this outfit into all of the activities in your travel itinerary. Slap on a pair of heels and vibrant earrings for a glam look with your jumpsuit. Or, stick to sandals and sunglasses for the daytime. 
Need some jazzy earrings to get the look? Visit this linked page for some real beauties. 
Bike Shorts and Boyfriend Top
This comfortable and fashionable outfit is ideal for any female passenger. It's the perfect outfit for flights and long train journeys. That being said, it's versatile enough that you can wear it at your travel destination too. 
Opt for black bike shorts so that you can mix and match them with multiple tees and tops on your vacation. A slouchy boyfriend top works wonders with form-fitting bike shorts. 
For a nautical look — if you're heading on a beach trip — pair the bike shorts with a white and black striped boyfriend top. 
Rib-Knit Tank Dress
Travel outfit ideas are all about saving space and being the perfect blend of comfy and stylish. A bodycon knit dress really is the best of both worlds — a one-stop-shop travel outfit. 
These sleek dresses are also warm and cozy, making them perfect for long flights and transiting. Then, when you arrive at your destination, simply pop on some heels, and you're ready for a glamorous dinner. 
Choose a warm brown or cream color that you can easily mix and match with other items. A maxi or midi fit works best here as a short dress isn't ideal for traveling. 
Athleisure Outfit 
You can thank celebrities and social media influencers for making athletic gear appropriate for everywhere at any time. You don't have to hit the gym to enjoy the flattering and comfortable athleisure garments.
These days you'll see athleisure everywhere, from nightclubs to beaches — and we love it! 
So, it goes without saying that you should definitely pack your favorite athleisure outfit for hassle-free outfits and styling. 
Travel Wear for Women Made Simple 
Travel wear for women doesn't need to be complicated. Just pack these 4 awesome outfits, and you'll be ready for any occasion and any travel itinerary. Enjoy your vacation in comfort and style!
Are you a fashion and travel enthusiast looking for more inspirational content? Our site has got it all — Keep exploring for more articles!