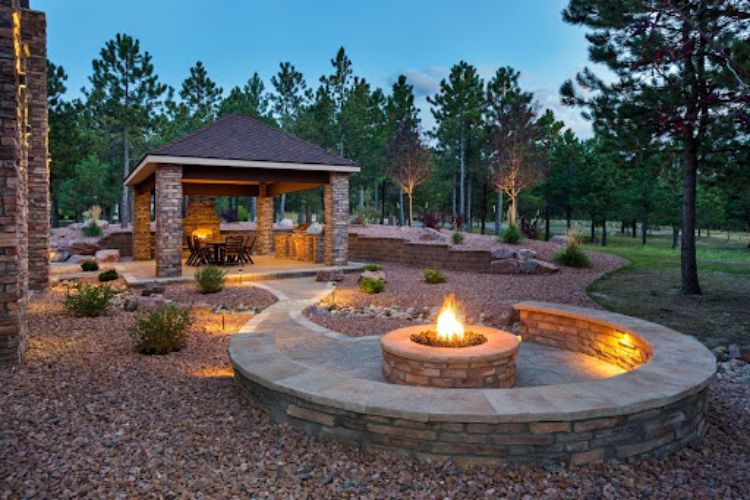 In 2021, the landscaping industry achieved a market value of $105 billion, according to the NALP. This staggering figure showcases the growing importance of creating attractive, functional outdoor spaces. 
Time spent outdoors can greatly enhance your state of mind. It's even better when you've got a tranquil, aesthetic escape right outside your front or back door. Plants and lawns are only one aspect of creating this peaceful oasis, but what about hardscaping? 
Check out these hardscape design ideas that can add value and ease to your life.
Low Maintenance Hardscape Ideas
Installing a path eliminates worn patches of grass where people and pets walk. It also cuts down on time spent mowing and caring for patches of lawn. 
Most hardscaping features require little maintenance apart from the occasional hose down, saving you time and money.
Stone Hardscapes
When you install stones and container plants where your garden beds once were, you can save yourself a lot of time and effort, too.
These features create a clean, modern look and they'll also cut down on your water consumption for garden use. Read more about the types of stone hardscapes and how they can benefit you.  
Hardscape Landscaping for Privacy
Fences and walls also form part of this branch of landscaping. These elements help confine your pets and children and keep them safe from busy roads.
They're also a deterrent for potential burglars and create a visual barrier between you and the rest of the neighborhood. 
Hardscape Design Ideas for Entertaining
Hardscaping is an important element for effortless outdoor entertaining. A stone fire pit makes for relaxed evenings with friends, while patios add convenience to sundowners or quiet time spent reading and reflecting in the fresh air.
Features like outdoor kitchens are among the best backyard hardscape ideas to increase the usable area of your home.
Hardscapes give your guests space to mingle and move around when you're entertaining, instead of spending time cramped inside the house. 
Hardscape Lighting Leads the Way
When you light up paths and water features in your garden, you create visual impact and a magical ambiance on clear evenings.
You're also adding an extra layer of security and making it a lot easier to make your way through the yard if you arrive home late at night.  
Environmental Benefits of Hardscaping
We've already touched on the water-saving benefits of hardscaping, but it can also help prevent erosion during heavy rainfall.
Hardscaping introduces barriers to the flow of water and soil in your garden. Stone areas dry quicker after a storm, gravel helps keep your soil hydrated, and stone garden borders prevent soil from washing out of your garden beds.
Retaining walls are vital to keep slopes intact and protect your home from a mudslide during extreme weather events.
Keeping Your Home and Garden in Top Shape
Hardscaping offers almost unlimited options to suit any outdoor space. Thanks to this versatility, it's easy to originate awesome landscape design ideas to suit your lifestyle and your tastes.
Get in touch with a landscape designer, browse the internet, or check out the latest gardening magazine for inspiration. You can also browse our blog for all the latest news on home improvements and lifestyle hacks.