If you are currently run a business and looking for a secure door option, then you should consider hollow metal doors. These doors will play a major role in the safety and good image of your business.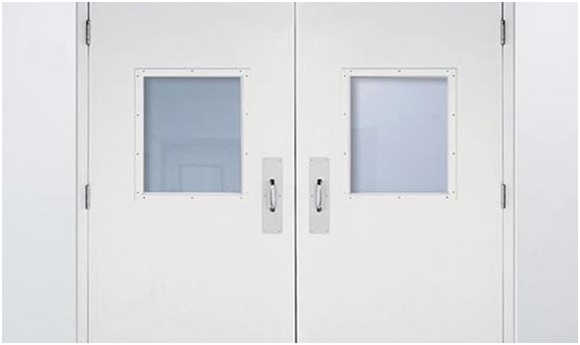 Mostly hollow metal door is made up of steel sheets and filled with insulation materials, which offers more strength to it. These doors are more superior to the door of any other material. Moreover, metal doors can take more abuse and are much easier to maintain as compare to wooden doors.
If you are looking for a secure commercial installment, then hollow metal doors are for you. Here are the seven benefits of these doors. Have a look!
Compatible for Every Space
The design flexibility of hollow metal doors makes them a valid option for hospitals, restaurants, schools, conventional centers and many more buildings. These doors come in a wide range of sizes that get easily fit in any available space.
You can also get a customized door according to your desire as they are easy to customize. And, for large commercial buildings, this type of door is ideal because it can be installed quickly.
High Security
Being made up of steel and other metal these doors are stronger than others. And, there is no doubt that metal enhances your building's security. The hollow core of these doors absorbs and disperses the impact of an outside force and thus offers a safe atmosphere to you.
Affordable Doors
Hollow metal doors and frames are relatively low cost compared to other material doors. If your business needs a number of doors, you can go for these affordable yet secure metal doors. They are light in weight thus installation as well as labor cost will be lower than other doors. Overall, it is the best security door that comes within your budget.
Aesthetic Appeal
It offers stylistic cohesion to any kind of building. Metal doors and frames come in an extensive range of styles and colors that gives a modern look to your business space. New finishes will simulate the texture of other materials in the building.
Moreover, these are easy to maintain, with just a rough cloth you can effectively clean their surface.
Long-Term Durability
Hollow metal doors are resistant humidity, strong winds, heat, and water, thus they have long-lasting durability. These doors are more versatile for interior as well as exterior use. They can withstand any wear and tear easily without getting damage.
Once you installed them in your business they will last for many years. Also, a very little maintenance and doors repair in San Diegoare required, to keep them looking and functioning like new forever.
Energy Efficient
You can do insulation on hollow meat doors and it will keep energy consumption low. These will not allow the loss of heat from inside to outside in winters. Also, protect the interior of the building from getting hot in summers. Thus these doors ensure a comfortable interior environment and save you money from energy consumption.
Conclusion
As of now, you know that hollow metal doors and frames offer many benefits to commercial spaces. So, consider to install them at your business property to get the amazing benefits of these doors. This will save you money, energy, and installation time while offering security.