Do you think that a nice yard is only something you can achieve with a lot of time or money? If so, you're in for a surprise.
Landscaping can be as cheap or expensive as you like. That's why more people than ever are beginning to look for landscaping tricks that will help their yards look great.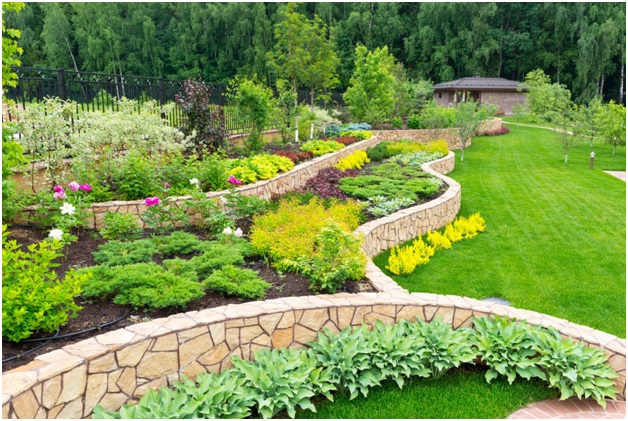 If your yard is looking drab, you can do a few things to get it looking like new. Follow the seven landscaping tips below to make your yard shine.
Reduce Your Yard Size
Having a big yard is a big priority for many people. Unfortunately, many people don't consider how much work it takes to maintain a large yard and keep it looking good.
If you want to add some style to your yard and reduce your maintenance, consider adding landscaping features to reduce your yard's size. Here are a few ideas that can help:
Extend your driveway
Add stone paths
Create flower beds
Add trees
Install garden fountains
The more you add to your yard, the less you have to take care of the grass. Plants, for instance, only need to be watered when you don't get much rain. Grass, on the other hand, needs to be mowed throughout the summer regularly.
Remove Dead Trees and Shrubs
It's great to have a yard full of greenery. After all, many people enjoy being around nature. It makes being outdoors a much more pleasant experience.
Unfortunately, having a lot of greenery can cause issues if you don't take care of it. Dead trees and shrubs are at the top of that list. If these are in your yard, expect an increased risk of pests and yard waste.
Luckily, it isn't too hard to get rid of shrubs. Pull them out of the ground, and you're finished. You can replace your dead shrub with a fresh one after you finish.
Trees are another matter. It's challenging to remove stumps, so you may need to contact a professional to finish the job. However, you'll be left with a perfect spot to plant a new, vibrant tree once you remove the stump.
Go Evergreen
Getting your yard looking great in the summer is all well and good, but what happens when things start cooling down in the winter? If you aren't careful, you'll have a dead yard that has no visual appeal to it.
While getting a few seasonal plants works well, don't ignore evergreen plants in your yard. Shrubs and plants that survive year-round will look great no matter how cold it is outside.
It pays to space these plants out around your house around the sharp corners. Putting evergreen plants in these areas will help your home look less rigid and be more inviting throughout the year. After this, you can fill in the space between your evergreen plants with your seasonal ones to get the summer look you're going for.
Create Smart Pathways
The more space you have in your yard, the more places you can go to. The question is, what will the experience be like when traveling to those places?
Creating pathways to your yard's points of interest is one of the great landscaping ideas you can use to make your yard more appealing. You can design pathways for garages, sheds, deck areas, and anything else you can think of.
Don't only make your paths straight, either. Curved paths will help break up the boxy look of a yard and make it more aesthetic.
Your paths don't have to be simple stepping stones, either. You can add shrubs and rocks around your paths to add a little more vibrancy to your landscaping.
You can also use alternative paths like Mexican pebble rock or gravel. These unique pathways will provide a unique experience when traveling throughout your yard.
Pay Attention to the Weather
Landscaping does a lot more for your home than give you something pretty to look at. It can also help control the climate inside your house.
Take cold months, for instance. Your furnace will work overtime when there is cold wind outside that cools down your house. Putting shrubs in strategic places around your home will stop some of that wind from hitting your house, keeping it warmer in the winter months.
The same is true for the sun in warmer months. Strategically placing trees to shade your home when the sun is high will stop the sun from heating your home. This shade will stop your AC from working as hard and reduce your electricity bill in the summer.
Add Lighting
Helping your yard look great during the day shouldn't be your only goal. It's also possible to use strategic lighting to make your yard shine at night, as well.
Most homeowners use lighting to illuminate the paths around their home. It doesn't only help bring focus to the surrounding area when it's dark, but it also helps keep people safe and able to find their way.
Outside of pathways, you can also use lighting to illuminate the points of interest around your home. These objects can be fountains, flower beds, and anything else worthy of attention.
Of course, you don't want to run wires through your yard to power everything. Luckily, you can take advantage of solar lighting to keep your yard illuminated at night without the power grid.
Create an Outdoor Living Area
While being able to admire your yard is great, it's even better when you have space outside to sit down and relax. A small living area outside will give you this while also adding value to your yard.
Here are a few outdoor area ideas you can try for your home:
Patio
Deck
Gazebo
Pool
Firepit
Seating
Grill area
Outdoor stove
Whatever outdoor area you plan to add, make sure it fits with your lifestyle. If you plan to spend a lot of time in this area, the last thing you want is to be bored with the space you create.
Follow These Landscaping Tips for Success
Nobody should drive up to their home and be uninspired by how things look outside. Make sure you use the landscaping tips above to learn how to landscape, so you can give your home the look it deserves.
If you want more home improvement tips, head back to our blog. Our latest posts have ideas that any homeowner can handle themself.