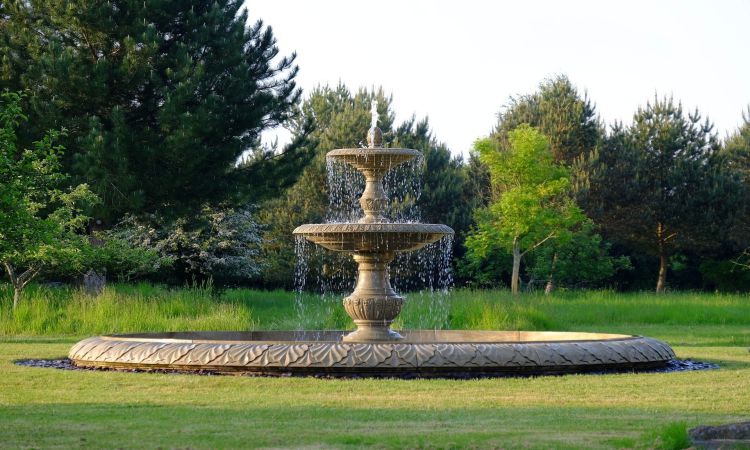 A water fountain is a decor piece through which water flows continuously. There are different fountains; some are battery-operated, while a few are solar. Few fountains are designed so that the water in them naturally flows. Outdoor water fountains are a great way to add life to the still environment. The sound of the water splashing and the lights embedded in it gives the place a grand look.
The circulating pump technology in the fountain keeps the water flowing throughout.
i) Step water fountains
These are the fanciest and widely used water fountains. Depending upon the size of the fountain, they can be put indoors or outdoors. For instance, a small step fountain can be placed in the corner of a washroom, while a large one can be positioned near the entrance of a house or a restaurant. Usually, three-step water fountains are found since they are in the middle of a minimalistic and extravagant look. People looking for an extraordinary appeal are suggested fountains with many steps embedded with stones and carved with different figures.
ii) Bamboo low-profile outdoor water fountain
These outdoor water fountains create a vintage and aesthetic appeal. People who do not want to lose their old heritage and traditions prefer these fountains as bamboo is considered sacred. The concept of the fountain itself was invented from bamboo. In the olden days, people used tilted bamboo sticks to make water flow as they looked like decorative items. In the modern era, these fountains evolved and slowly became stone, solar and electric fountains. A small battery is put in the bottom of this fountain to ensure continuous water flow.
iii) Glazed LED water fountain
These are budget-friendly water fountains and are economical to use as they are battery-operated. Since LED uses less power, the power required for the water flow is sufficient with a low-watt battery. They are usually pot-shaped, where water flows from the front side. These fountains are put on both sides of the door at entrances. They provide a cooling effect. The colours of the lights can be changed if there is a remote. This is an advanced version of the LED water fountain. A simple LED fountain contains an opening for the rush, and the light is of one colour, generally fluorescent.
iv) Figurine fountains
These fountains resemble art, a sculpture, or even a painting. A beautiful sculpture is carefully carved according to the size and the figurine model. Artistic people prefer this. These fountains require a lot of thought and process since selecting the perfect figurine requires much effort. Roman figures or romantic figures are commonly carved sculptures on such fountains.
How to choose the perfect outdoor fountain
Style
Fountains come in many different styles, including vintage, aesthetic, extravagant, roman, minimalist, etc. Depending upon the location, budget, and design one is looking for, there are various styles of fountains one can choose from. For instance, a restaurant would choose a fancy extravagant fountain, while a government building would choose a minimalistic one. The fountain size should also fit in the space and match the outdoor furniture and fittings. The colour scheme is another important aspect one should consider.
Material
Materials that are resistant to heat, dust, rain, and acids from the rain are the ideal ones that a fountain should be made of. Most sprays are solid rock coated with polyresin, a mixture of polyester and resin. Ceramic, concrete, and fibreglass are also used while making a fountain. Fountains made up of these materials are more expensive as they are durable. The added monetary value of the material depends on the resistance of the material. The more resistant it is, the more expensive it gets.