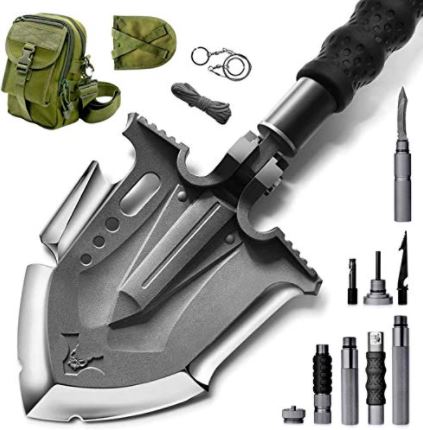 A survival shovel is used for digging a hole to build a shelter, trench, fire pit, protect yourself while camping, and more. You may also use it as a small tool for cutting in the absence of kindling wood to burn while building a fire. 
You can find many top shovels for survival on the market, which means there is intense competition. Manufacturers have to improve and provide high standards to stay in the race. 
However, competition may also lead to some players compromising certain features to create more pocket-friendly products. Therefore, choosing a shovel for survival is not easy. Therefore, use this as a guide to help you to make the right decision while getting a shovel. These are the factors you need to consider:
Price
Price plays a vital role in selecting a shovel of your choice. You can find several survival shovels in the budget, but forgetting quality would be a mistake if you invest in cheap products. Thus, it is best to get the best quality while sticking to your budget.
Material
Survival shovels are made of several materials. Some alloys are well-made, and modern-day plastic is also becoming a sturdier option. 
You should not ignore conventional materials that have been in use for generations. Even though aluminum is lightweight, it bends easily. Stainless steel is long-lasting, sturdy, and corrosion-resistant. However, it is also the heaviest material available to make shovels. 
Among the traditional materials, high-carbon steel, which is stronger than stainless steel, is a good option. It quickly slices through trees and other debris while digging. Make sure you buy a coated product to prevent rust. 
The number of tools
When you are looking for top shovels for survival, do not forget the survival tools they come with. Buying an entire set is not only cost-effective but also saves space. Shovels are accompanied by hoes, saws, screwdrivers, bottle openers, whistles, and compasses. 
Take a note of the tools at your disposal and determine which ones you do not have. Then, check the shovels that have the tools you do not possess. 
Size and shape of the blade
The blade's size and shape decide which shovel is better than the other. Big blades make it challenging to dig dry and hard soil. But, they are better for moving sand or gravel. 
On the contrary, smaller blades go easier on dry ground, but completing the work with such blades can be time-consuming. 
As for shape, wide and narrow blades follow the pattern of big and small blades. A wide blade is great for moving dirt, and a narrow blade excels at digging.
Handle
The handle is that part of the shovel which helps you get leverage and dig or move rocks or soil. Several tri-folding shovels consist of durable steel handles that allow you to put a significant load on the shovel in craggy and rough conditions. 
The handles are generally triangular, making it easy for you to hold the shovel whether you wear gloves or not. The tri-folding shovels may also have T-shaped handles that provide an excellent gripping surface during digging.