If you're in the process of installing or refinishing the floors in your home, you're probably asking yourself, "should I get a hardwood floor or carpet? Outside of the kitchen and bathroom, these are the two most common options for every room of the house. Even so, they couldn't be more different in terms of appearance, upkeep, and functionality.
Should you choose carpet, hardwood flooring, or a mix of both? Let's dive into the hardwood floor vs. carpet debate and go over the benefits and downsides of each.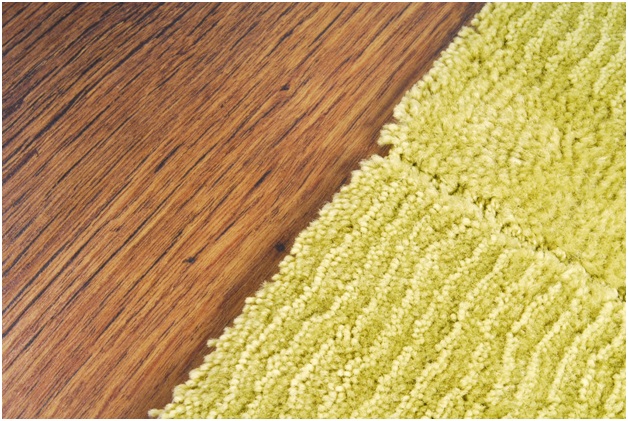 The Pros and Cons of Carpet
Nothing beats a soft carpet when it comes to cozy, quiet living. Wall-to-wall carpeting is an excellent sound insulator in busy households, especially for bedrooms and hallways. It also comes in an endless range of colors, patterns, and styles and keeps your home warmer during winter.
When comparing the average hardwood floor vs. carpet cost, you'll almost always find that carpet is less expensive to install. Even so, if members of your household are prone to leaving stains or your house has a lot of traffic, hard floors could end up saving you money in the long run. Consider investing in a durable stain-resistant carpet to lessen your risk of permanent spots.
If you or your family have moderate to severe asthma or environmental allergies, carpeted floors may not be the best choice. They tend to trap allergens like dust, pollen, and pet dander. Plan to vacuum them often and get them steam cleaned at least once per year.
The Pros and Cons of Hardwood
Hardwood floors are ideal for anyone who wants to give their home a luxurious feel. Not only are they gorgeous and durable, but they're far easier to keep clean than carpets. While you have to replace carpeting every ten or so years, a high-quality hardwood floor can last for generations.
The major downside of hardwood flooring is the cost. Both the materials and installation fees tend to be much more expensive than carpet. Hardwood also reflects sound instead of insulating against it, which can turn some areas into an echo chamber.
Pet owners with large dogs may want to steer clear of hardwood flooring as their claws can leave scratches and dents in the finish. On the other hand, owners with smaller dogs and cats will have a much easier time sweeping up fur. Area rugs and hallway runners are a great option for people who want to avoid scratches in high-traffic areas but don't want to commit to wall-to-wall carpet.
Hardwood Floor vs. Carpet: Which One Will You Choose?
A lot of factors go into answering the hardwood floor vs. carpet question in each room of your home. Before making a decision, be sure to consider your budget, preferred aesthetic, and lifestyle. With all the high-quality flooring options on the market today, you're sure to find one that suits your needs.
Do you still need help with upgrading or refinishing other parts of your house? If so, read through the other articles on our site for more helpful home advice.