Managing your home build takes a great deal of effort and organization. Here's everything you need to know about building your own house.
Don't let those instructables and YouTube videos fool you; building your own house is no easy fete. However, as hard as it might be, it's not impossible. So don't let the difficulty of building your own house discourage you from building your dream house.
Home build is more than just the actual physical construction for the house. There's a lot that goes into the actual home-building process that most people don't know about. There are things like the design of the building, permits, and much more.
That's why building an average-size home could sometimes take close to two years, even with a good contractor. Most people take the plunge of building their own homes without doing their homework on the prospect. This makes the entire process stressful, lengthy and some end up losing a lot of money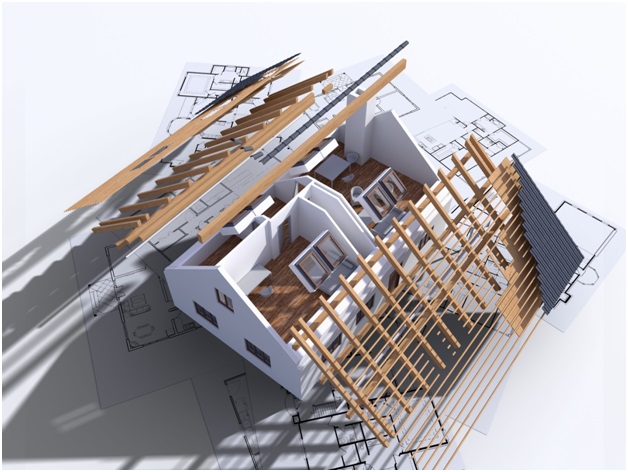 To make sure you're not like most people, read on and find out all you need to know about building your own home.
Numbers Are Everything in Home Build
Before you get to work, make sure you have all the numbers on lock. As you probably already know, building your house is very expensive. So it's important to crunch all the numbers to find out whether you can actually afford your dream house.
You can get a house plan that gives you an accurate estimate of what it costs to build the house, given a specific location. The architect or building company will usually charge you for this cost estimate, but it saves you a lot of trouble.
When it comes to home build figures, make sure you have:-
The total cost of construction
All taxes and any benefits
Any down payments
Slush accounts if applicable
These are just a few of the numbers that you need to know before you can build your home. Since everyone's case is different, it's highly unlikely that two different homes will have the same number. So whenever you're building your home, make sure you have the numbers ready.
Find the Right Construction Company
The beauty and integrity of your home depend on the people you hire to build it from the ground up. As such, you shouldn't gamble with the builder and architect you pick for your house build. This is especially true if you have no prior experience with constructions of any kind.
The first thing you should do is to check the reputation of any company you're considering. You can check for reviews or testimonials from previous clients. If the company is registered with the Better Business Bureau, the better it is for you to learn about it.
The best construction companies will be more than happy to show you their portfolios. That's because they are proud of their previous projects and are eager to show them off. Steer clear of companies that are reluctant to show you or don't have portfolios.
The best way you can get a trusted company is by getting referrals from your neighbors, family, or close friends. Remember, the construction company you settle for is the single most important decision in the home build process.
Consider Hiring a Designer
You're never too stylish or too chic for a professional designer. Until you hire one for your new home, you won't even know what you're missing. If you're keen on aesthetics and visuals, then hiring a designer for your home build should be a must.
A designer will harness your home's interior and exterior aesthetic potential and bring the best out of your new house. A good designer is more than just someone who glams up your house; a good designer is a genius at home design. That means a person who will take care of the visual aspects of your house design, plus the logistics and the finances.
A good designer will give you a visually stunning home and also save you time and money. So even though you've already visualized your entire house, you should never rule out a designer.
Don't Forget About Resale
Always build with resale in mind. Even if you plan to live there for the rest of your life, you never know if you might change your mind down the line.  Your house is your greatest asset, and you should treat it like it is.
Maybe your unique taste won't be so attractive to home buyers in the future. Also, don't avoid adding too many upgrades that will make your home too pricey for the neighborhood. Don't go for anything too eccentric that could turn off potential buyers.
Don't Forget About Cabinet and Furniture Placement
Don't get caught up in planning the house structure, and forget about the cabinets and the furniture. Visualize where all the furniture and cabinetry will go once you complete building the house. You don't need to have actual furniture; just do rough but reasonable sizing estimates.
You don't want a situation where your best furniture can't fit in your living room. An even worse situation is where you have to arrange your furniture awkwardly so that they can fit in the room. Make sure you consider the placement of furniture and other installations during your house planning.
Once you're ready to purchase cabinets, you can consider purchasing them from an online cabinetry retailer. This process will save you time, money, and put your mind at ease knowing the cabinets will be delivered straight to your house.
Cap It off With a Comprehensive House Inspection
By this point, you'll have completed most of the hard work. However, don't move in just yet. Your house still needs to pass house inspection before it's fit for occupation. These house inspections will cover all aspects of your house to ensure your safety and that your house is complete.
Keep in mind that only a certified house inspector can conduct a house inspector. You need to find a building inspector for your house inspection before you can move into your brand new home.
Build Your Dream Home the Right Way
Now that you know everything you should about home build, it's time to get to work. Remember, building your home is a lengthy process, and you should take your time. Avoid rushing into it, and building a substandard house.
Building your house takes a lot of time, effort, and dedication. If you need something to decompress, then make sure you check out the other pieces on the site.