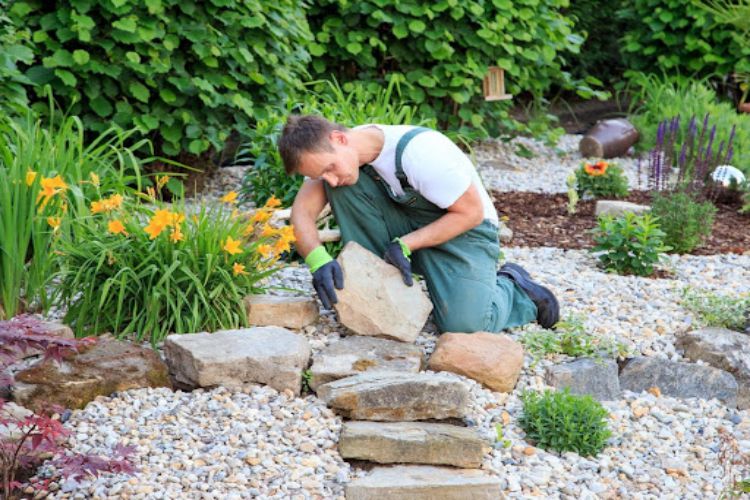 People have spent a lot more time at home in the last year or two, which gave them a lot of time to look at their homes and imagine something else. That likely feeds into the explanation for why so many homeowners took on home improvement projects in the last year. Landscaping is one of the more popular projects people chose.
Some landscaping lends itself to DIY, but major landscaping projects often call for equipment or more bodies than a DIY project sustains. When that happens, you want the best landscaping company you can find. The question is, how do you find the best professional landscaping services?
Keep reading for some tips to make the process easier.
Talk with People You Know
There is a very good chance that you know people with landscaping that you love. There is also a very good chance that at least some of them employ the services of a landscaping company or at least a residential lawn care professional. This is where you first start developing your list of businesses to call.
Ask your friends, acquaintances, or family members with great landscaping for the names of the people and businesses they use. You'll likely find that all of them are happy to give you the number of their lawn person or landscaper.
You can take that list of businesses or names and move on to the next step.
Online Searches
The best lawn care pros and landscapers are more mobile than a lot of other businesses. Even so, they'll typically work within a limited radius of the home base. For some, that might mean 10 miles and others might go 20 or 30 miles.
In the end, though, you'll probably want someone located not very far from your home. This is where you go online and do a local search for "landscapers in (your town or city)" or "landscaping companies near me." This will usually pull up a list of relevant local businesses and even a local map.
Use that map and those websites to see who is located near to your home. Then, compare those hits with the list of businesses or people that were recommended to you. With a little luck, you'll see some crossover between the businesses near you and the ones people recommended.
What if You're New in Town?
Of course, sometimes you want landscaping because you just bought a home in a new town or city. That makes getting recommendations more difficult because you probably don't know many or even any people in the area. This is where review sites come into the picture.
Instead of relying on word-of-mouth recommendations, you can compare reviews from other customers to the list of landscaping companies near you. See which ones rank well and which ones get poor reviews.
Make sure you read a number of reviews for any company, rather than just reading one bad review and moving on. If a company gets generally good reviews, that one terrible review is likely a fluke. Instead, look for common points of complaints or recurring points of happiness.
Maybe a company really excels on the actual work, but their customer service is only so-so. Maybe a company has outstanding customer service, but they routinely get less than stellar reviews for their flower work. Look for companies that get good reviews on the things you care about.
Where you see a crossover between the things you care about, location, and good reviews, that's probably a safe choice for your landscaping project.
Visit Their Websites
You should also make a point to visit the websites of any landscapers you're thinking of hiring. If nothing else, they should have some images up of prior projects. Ideally, they'll offer some before and after images of those projects.
This can give you a good idea of the scope of projects they take on.
Their website will also detail important information that you should care about.
Services Offered
While recommendations and internet reviews will tell you what services other people got from a company, it won't tell you what services the landscaper offer right now. Some landscapers will come in and completely reinvent your front and back yards, but that's it. Others will provide those services and offer things like yard maintenance services to keep your landscaping looking its best.
History
It doesn't show up on every business page, but many businesses offer a fairly extensive about us page. They'll often tell you when they opened up, which tells you how long they've been in business. Businesses that are more than a couple of years old are often safer bets than businesses that opened up six months ago.
Service Area
Again, it won't turn up on every website, but many landscapers and lawn care pros will offer details on their service area. If you picked a company that is close by, it shouldn't be a problem. If you prefer a company that's a healthy distance away, this information can matter.
Pricing
No matter how skilled or well-reviewed a landscaping business is, it won't mean anything if you can't afford them. The websites may list general pricing information, but you'll probably need an estimate from a company to get a clear read on what it will cost you.
Get estimates from several companies so you can get a feel for the pricing range and to ensure you can afford the work.
Picking the Best Landscaping Company
Picking the best landscaping company for your project will take some legwork on your part. That means tapping into your social network for advice or recommendations.
It also means heading onto the Internet and running searches on local companies, visiting their websites, and hitting up review sites to get a picture of the service you can expect.
You should also make a point to invite at least two or three companies out to your property to provide estimates. This establishes clear pricing parameters.
Looking for more landscaping advice? Check out the posts in our Home & Garden section.