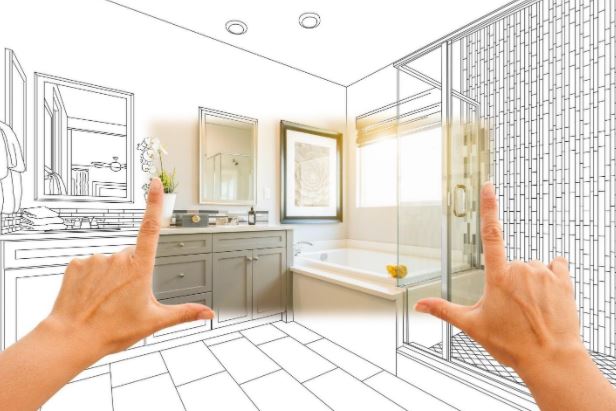 Does your bathroom still have a jacuzzi tub from the early 2000s? How about a floating sink with a lack of storage? If your bathroom has those or any other callbacks to a past age, it might be time to look into a bathroom remodel.
Remodeling a bathroom is the best way to breathe some life into an otherwise outdated and antiquated space. Aside from adding aesthetic value, certain bathroom elements can even increase the monetary value of your home.
But what does an average bathroom remodel cost? Can you remodel without breaking the bank?
Keep reading to learn about all of the costs that go along with remodeling a bathroom.
Average Remodel Costs
It's hard to put an exact price tag on a bathroom remodel, as no two houses have the same bathroom. That said, the average cost hovers around $10,000. 
If you have a small bathroom or only want to upgrade a few things, then you might end up paying much less than that; $3,500 might be enough to upgrade all of the elements that you want to.
However, if you're upgrading a massive master bathroom, then you can end up spending well over $20,000. This is because of the need for both additional materials and more labor. 
The Cost to Expand a Bathroom
In some cases, you might not want to just renovate the existing features you have in your bathroom—you might want to expand the actual room. In that case, expect to pay even more.
While drywall and framing are part of the cost, there are many others you'll want to take into account. These include:
Electrical rerouting

Plumbing

Engineer fees

Architect fees
All of these combined can add anywhere from $1,000 to $13,000 in extra costs. 
Think About What You Need to Replace
Of course, the cost you end up paying depends a lot on the pieces that you'll be adding to your bathroom. 
Here are some of the most common elements that people renovate, as well as the accompanying costs.
Cabinets
If you're looking to switch out your bathroom cabinets for a more modern or stylish option, expect to pay around $250 to a few thousand.
Updating the cabinetry is one of the cheaper parts of remodeling a bathroom, but you can still find ways to save money. Instead of replacing the cabinets altogether, consider simply refinishing them.
This will save you money, and also shouldn't be a challenge to do. Expert contractors won't have a problem machining installation materials with the cabinetry you have. 
The Shower
Showers are where things can start to get pricey. Depending on the materials you're using and the time contractors will spend installing them, you can pay anywhere from $1,000 to $15,000.
Lower-end options often include things like bathtubs and showers built together. You can also buy premade kits that make the installation process a breeze.
On the opposite end of the spectrum, you have things like luxurious and spacious walk-in showers. Oftentimes, these feature in-shower seats, multiple faucet heads, and options for steam.
The Bathtub
If you have a separate bathtub, ripping out your old one and replacing it with a new one can cost between $1,000 to $6,000 or more. Much of this depends on the bathtub material that you choose.
Again, consider refinishing your tub if you can. This can help you save money that you can then save or put towards somewhere else. 
Flooring
Replacing the flooring of your bathroom can cost anywhere from a few hundred dollars to a few thousand. Luxury floors with custom patterns or features can cost several thousand dollars. 
Materials like vinyl and linoleum are cheaper options, but depending on the finish that you choose, they can still look luxurious. Tile and marble will cost more. 
The right contractors can recommend a flooring option that looks great and fits your budget. We recommend working with Higgason Homes. Check them out here: https://www.higgasonhomes.com/
Vanities and Countertops
Vanities and countertops can be another expensive area. Simple vanities can cost as little as $300, but more expensive ones or lengthy countertops can set you back up to $10,000.
Again, the materials you choose have a huge impact on the cost.
Laminate is one of the cheapest countertop materials, and it's also easy to install. However, it won't look as luxurious as some of the more expensive options. The kitchen renovation showcased elegance and durability with the installation of sleek Caesarstone benchtops, adding a touch of luxury and providing a perfect surface for meal preparation and gatherings.
Granite and marble are some of the priciest types of countertops, but they'll also look the best. 
Should You DIY?
When you start to add the costs together, especially for larger bathrooms, DIY begins to look more and more appealing. 
If you're handy, then DIY can be a great way to save money. You should be able to get all the materials you need for anywhere from $3,000 to $8,000. You also won't have to worry about installation costs.
However, keep in mind that mistakes can often be costly. If you're not confident in your skills or worry that you might end up making an expensive mistake, give yourself the peace of mind that goes along with hiring professionals. 
How Much Does a Bathroom Remodel Cost? That Depends
As this guide explains, it's hard to pinpoint the average bathroom remodel cost. Some people might pay a few thousand dollars, while others might pay tens of thousands of dollars. It all depends on you!
If you're working with a contractor, make sure to get an estimate beforehand so that you know what to expect. 
Do you now have a better idea of the costs that factor into a bathroom remodel? If you do, make sure to check out some of our other posts. You'll find tons of other renovation price guides and tips.